Excerpt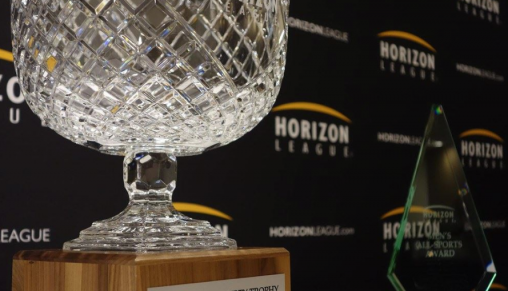 Wright State University is coming off a stellar athletic year, where five of its sports claimed Horizon League titles. As such, Wright State was awarded the 2019 McCafferty Trophy. The honor is awarded annually to a member institution compiling the greatest number of performance points based on its finish in the Horizon League's 19 championship sports.
This marks the first year Wright State has won the award.
Bob Grant, Wright State's director of athletics, said the award reinforces that student-athletes can achieve at a high level athletically, and comes on the heels of record setting academic and exposure achievements.
"This is historic and special and really validates our PSA mission and the priorities that it dictates," Grant said. "We truly value our student-athletes as people first, students second and athletes third. I could not be more proud of our student-athletes, coaches and administrators."
Wright State joined the Horizon League in 1994-95 (then known as the Midwestern Collegiate Conference) and has finished in second and third place three separate times, with the latest coming in 2015-16. The school has finished in the top half of McCafferty standing the last three years, despite being in the bottom half of the league in athletics spending.
Wright State claimed titles this year in:
Women's basketball;
Men's golf;
Men's soccer;
Men's baseball; and
Men's basketball (co-share).
James J. McCafferty served as the conference's first commissioner from 1979-80.
WSU's 43 points were highlighted by the women's basketball team winning both the regular season and tournament championships, while the men's golf team captured the HL title in comeback fashion in Florida. The Raiders finished the year with four regular season championships as men's soccer and baseball won outright titles and the men's basketball team earned a share for the first time since 2006-07.
View the original post at bizjournals.com