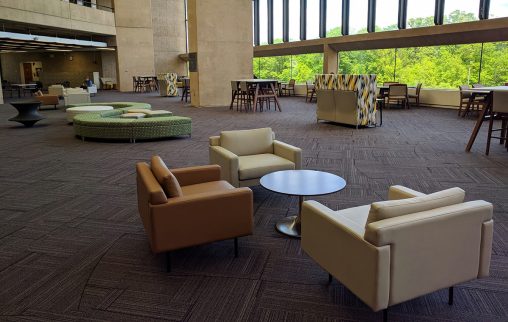 Nearly a year after receiving $13.5 million from the state capital budget, Wright State University is putting those dollars to work.
Wright State has invested $1.1 million in renovations to the Dunbar Library at its main campus in Fairborn. In August, the library received state funding for two projects: $600,000 to replace carpet and $500,000 for a modernization initiative to renovate and increase study spaces and replace furniture.
The funding allowed Wright State to offer 40 percent more seating at the library, which includes a variety of new furniture. In addition, more than 200 outlets and 150 USB ports have been added, along with new study booths, four sit-stand desks, 13 bookable study spaces, new whiteboards on wheels, computers with dual monitors and four bicycle desks students can use while they work.
The library renovation was part of a larger initiative to address several deferred-maintenance projects at the university.
Wright State received $650,000 to renovate and repair portions of the tunnel system, and nearly $1.3 million to support an upgrade to the wireless infrastructure of the entire Dayton campus. The upgrades began this past fall in Hamilton Hall and Forest Lane, which are residence halls.
Read the full article from the Dayton Business Journal.