Wright State's Learning English for Academic and Professional Purposes (LEAP) Program hosted its final Cultural Hour of the summer semester with an international potluck lunch.
The potluck was one of many Cultural Hours LEAP hosts for international students and members of the LEAP Program. They are designed to introduce students to other cultures, as well as make other connections and friendships along the way.
LEAP students and faculty members brought food to share from their respective countries, including Brazil, Mongolia, South Korea, Thailand, India and Saudi Arabia.
Jeannette Horwitz, the director of LEAP, said the gatherings are a great way for LEAP students to meet new people and to learn more about other cultures.
"We have the LEAP Cultural Hours every two to three weeks during the semester. It's an opportunity for all of the students in our program to get together and do something fun, learn about American culture, holidays and traditions and practice English outside class," she said. "We often have students from WSU's TESOL (Teaching English to Speakers of Other Languages) Program join us, and it's a great opportunity for the teachers-to-be to interact with the ESL students."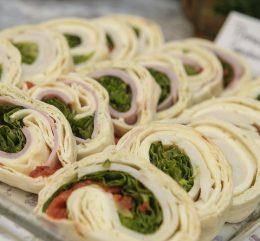 LEAP will host several more Cultural Hours throughout the fall and spring semesters.
Mohammed Salman, who graduated from the LEAP Program in 2015 and is currently a Ph.D. student in computer science and engineering at Wright State, said he continues to attend LEAP Cultural Hours because of the great memories he has of the program.
"The best memories were of the Cultural Hours because we have fun and learn at the same time," Salman said. "I still go there to remember these amazing good old days and because I always feel welcome there."