Excerpt
American Factory co-director Steven Bognar detailed how he and directing partner Julia Reichert's storytelling approaches align with the Obamas', while DOC NYC artistic director Thom Powers and honoree Martin Scorsese nodded to the ongoing debate around what qualifies as "cinema" during the festival's sixth annual Visionaries Tribute on Thursday in New York.
Kicking off the 2019 festival, which runs through Nov. 15, the event honored five creatives in the documentary world for their various contributions to the medium. In addition to Bognar and Reichert's honors as recipients of the Robert and Anne Drew Award for Documentary Excellence, directors Scorsese and Michael Apted (Coal Miner's Daughter, 7 Up series) were presented with lifetime achievement honors.
The Leading Light Award, which recognizes an individual making a critical contribution to the documentary medium in a role other than a filmmaker, went to New York Women in Film & Television executive director Cynthia Lopez. D.A. Pennebaker was also honored posthumously for his work as a director, cinematographer and pioneer of cinema verité.
Before accepting his award alongside Reichert, Bognar spoke to The Hollywood Reporter about the directing duo's initial conversation with Barack and Michelle Obama, whose Netflix-based production company Higher Ground released American Factory. It was a discussion that he said illuminated one way their creative visions were aligned.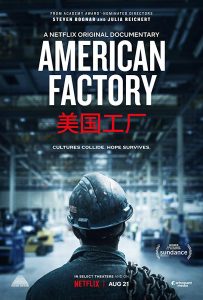 "When we sat down with them, we talked about the power of storytelling and how so many decisions in the world are made by data," Bognar said. "Governments make decisions based on data. Companies make decisions by data. But data is only part of what impacts the world. The human narrative has to be a part of decision making. I can read statistics about what's happening in Syria, but if you see the movie For Sama, it changes it, right? It just moves you and forces you to take action in a way that data will never."
The first film in a slate of projects from Higher Ground, American Factory follows the lives of manufacturing workers in Dayton, Ohio, after a GM plant that closed in 2008 is reopened and taken over by a China-based auto-glass company. Bognar said he and Reichert "would be thrilled and honored" to work with the Obamas again. However, the burden was ultimately on the filmmakers to have a good idea.
Whether or not it happens, the directors do plan to continue working within the same topical veins and with the same approach that made American Factory a strong fit for Higher Ground.
"The Midwest stories of working people are very important to us," Bognar said. "But we are two middle-aged, middle-class white filmmakers. We didn't ever work in a factory. We also don't presume to know how to do that. So when we made the film, we had to check ourselves. We showed a lot of test screenings. We had advisers who called us on our blind spots. We did that because we're trying to represent different communities, even though in a geographic sense, it's our community. Not every part of that community is ours, and we didn't want to screw it up by misrepresenting or inaccurately representing them."
View the original story at hollywoodreporter.com