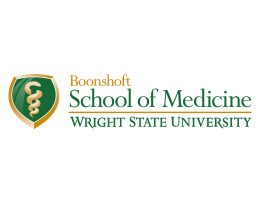 Mel Brown has joined the Wright State University Boonshoft School of Medicine's Office of Student Affairs and Admissions as its new diversity and inclusion specialist. He comes to the medical school after serving in academic roles at various universities throughout the Dayton area.
Brown previously worked in advising roles at Central State University, University of Dayton, Sinclair Community College, Wright State University and University of Cincinnati. He has 17 years of experience in higher education.
Brown was attracted to his new position in part because he is an alumnus of Wright State University, where he earned two of his advanced degrees. Brown also saw a great opportunity to work with the office's experienced, diverse, and talented staff.
"One of the things that attracted me to the Boonshoft School of Medicine was the chance to be a part of presenting life-changing opportunities to students from underrepresented backgrounds," Brown said. "I love having the opportunity to utilize my existing skillsets in new and exciting ways while still learning new elements to add to my repertoire."
At the University of Cincinnati, Brown worked as an academic advisor in the College of Engineering and Applied Science. Brown advised and supported students along their educational journey, evaluated their readiness, and recommended actions that helped them reach their goals.
Before that position, Brown was an academic advisor in the College of Liberal Arts at Wright State University. He helped students working toward degrees in communication, social work and urban affairs.
"I have a long-standing familiarity with the Wright State campus and the experience that comes with having been an underrepresented student myself," Brown said.
Throughout his work in higher education, Brown has relied on his student-centered sensibilities to find commonalities. He has excelled at serving both prospective and existing students, no matter what challenges have come their way.
Brown's experience and interests align perfectly in his new position. He is enthusiastic about helping students and has a great deal of experience with advising in higher education at undergraduate and graduate levels.
"I've enjoyed engaging in conversations and learning about our incredibly talented students," Brown said. "I hope to serve the mission of the Boonshoft School Medicine by aiding our culturally diverse students through any challenges they may face."