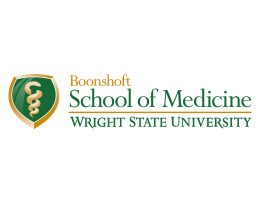 The Wright State University Boonshoft School of Medicine Department of Psychiatry is moving from its downtown Dayton location to a building near the campus of Wright State University. The move will be completed during the first week of February. Clinical sites throughout the Dayton community will remain at their current locations.
The department's new location is on the South side of Colonel Glenn Highway, on the first floor of the building next to the Wright State University Foundation. Its new address is 2555 University Blvd., Fairborn, OH 45324. The move includes all faculty, staff, residents and fellows.
"The move will place the academic department nearer to Wright State Physicians, the Boonshoft School of Medicine, Wright-Patterson Medical Center and the campus," said Julie Gentile, M.D., chair and professor of psychiatry. "It will facilitate collaborative opportunities with other departments and colleges at Wright State University."
The new location has plenty of parking and will be easily accessible to patients, colleagues and visitors. One side of the first-floor location will be dedicated to patient care while the other side will hold academic and educational offices.
The Department of Psychiatry's new location will open on Monday, Feb. 10. The department will hold an open house in the future to welcome the community.
"We welcome visitors," Gentile said. "Since we are a large clinical department in the Boonshoft School of Medicine and have a large number of community partners, we want everyone to be aware of our new location."
The Resident Psychotherapy Clinic will also move to this location. Clinic services are offered by senior medical residents under close supervision of faculty members within the Department of Psychiatry.
The Resident Psychotherapy Clinic was developed in 1992 to provide a nationally recognized resident physician training site focused on providing high-quality, evidence-based psychotherapy treatments for patients with anxiety, depression, relationship issues or traumatic life events.
There are openings for adult, child and adolescent patients seeking weekly psychotherapy sessions. To make an appointment, call 937-775-7792 after Feb. 10.
The intended patient, or legal guardian, must schedule his or her own screening visit. All patients are seen for $40 per session. The clinic cannot accept any form of insurance, including Medicare, Medicaid and CareSource. Due to resource limitations, the clinic cannot treat patients with severe psychiatric diagnosis. Medication management cannot be the sole reason for a visit.