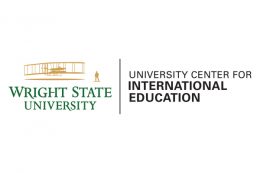 Wright State's University Center for International Education (UCIE) is hosting online events for international students during the coronavirus pandemic.
The events are designed to be both entertaining and helpful during the social distancing restrictions of COVID-19. So far, UCIE has hosted virtual cooking shows, conversation outlets, poetry competitions and student-led talk shows.
Klodi Abazi, the international student program coordinator in UCIE, says the events are designed to keep international students connected as much as possible while following proper social distancing practices.
"Our goal was to offer various ways to engage our students and community," she said. "Since we are no longer able to interact face to face, the virtual platforms have given us a way to reach out to our constituents and keep connected. Our staff is very intentional about serving as a support system for our international student population."
The unprecedented nature of COVID-19 has been especially challenging for international students. From not being able to fully experience a complete American college lifestyle to worrying about their loved ones in their home countries dealing with coronavirus, many of these young men and women have a lot on their minds.
Abazi wants these virtual events to be an outlet for students to take their minds off of the stress caused by the pandemic.
"The situation we are going through right now is especially difficult for our international students," she said. "Many of them are away from their families, who are also affected by this pandemic. We hope that through our programming, we can provide an outlet for our students to virtually engage as well as provide the resources they need during this time of uncertainty. We are all looking for ways to connect with each other and these initiatives provide just a small way of doing this. We continue to encourage students and everyone else to keep connecting with each other and make sure that they are reaching out if they feel alone."
Mili Nikitha, a graduate student in the Department of Materials and Mechanical Engineering at Wright State, said UCIE's virtual events have helped her stay in contact with people while separated because of social distancing practices.
"UCIE's live cooking show is a great platform to exhibit our skills and interact with students remotely. I'm glad that I've participated in the show," she said. "I felt very excited and contented to interact with all the students. By being a part of these programming events conducted by UCIE, I do not feel isolated and distant from my home. This is a great way to connect with your friends regardless of the pandemic crisis going on."
UCIE will continue to hold the events for as long as Wright State offers educational instruction remotely due to COVID-19.
"This is a great tool to continue developing deeper relationships with our students," Abazi said.