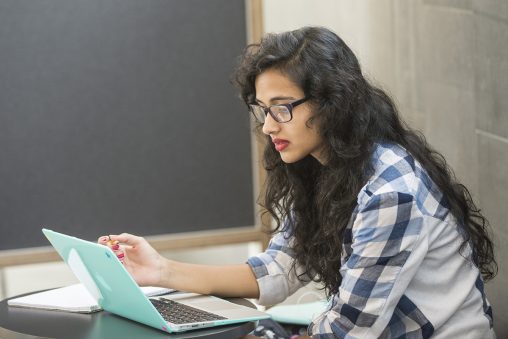 Prospective students can explore potential majors and learn more about Wright State University during our online Spotlight series.
Spotlight is a series of live virtual events that offer high school students and transfer students a chance to learn more about Wright State and interact with faculty, staff and current students.
The free Spotlight events are open to both high school and transfer students at any stage of the application process.
Individual events are scheduled for Business, Nursing and Health, Science and Mathematics, Engineering and Computer Science, Liberal Arts, and Education and Human Services. A new session is now available for students who are undecided on a major.
The Wright State Spotlight series gives prospective students the opportunity to experience campus and community in a live and interactive format wherever they are. Participants will get a personal connection to Wright State faculty, staff and current students and learn more about being a Raider.
Prospective students can attend any Spotlight event based on their interests. Those who register for an event will receive a fee waiver code for their undergraduate admissions application.
Spotlight schedule:
College of Science and Mathematics
Monday, May 18
5–6 p.m.
Learn about science and math majors like biology, psychology, physics, statistics, psychology and more. Explore majors, research opportunities, real-world learning experiences and more at the College of Science and Mathematics.
Register Now
College of Liberal Arts
Tuesday, May 19
5–6 p.m.
Wright State's largest college includes a wide variety of majors, including political science, communications, history, musical theatre, social work, and much more. Learn in-demand skills in research, communication and critical thinking while gaining real-world experience for your resume.
Register Now
College of Education and Human Services
Wednesday, May 20
5–6 p.m.
Learn about education and human services majors like teacher training, rehabilitation services, athletic training and more. Programs will give students real-world experience with field experiences, practicums, internships and clinical experiences. Students can also take advantage of research opportunities in their major.
Register Now
College of Engineering and Computer Science
Tuesday, May 26
5–6 p.m.
Learn about majors and programs, tutoring, career services and research opportunities available to students interested in an engineering or computer science field.
Register Now
College of Nursing and Health
Wednesday, May 27
5–6 p.m.
Learn about services, tutoring and programs offered by the College of Nursing and Health. The college's strong community partnerships with area hospitals, clinics, health services and centers mean students will gain the real-world experience they need to succeed.
Register Now
Raj Soin College of Business
Thursday, May 28
5–6 p.m.
Learn about the college's state-of-the-art facilities like the Soin Trading Center and the Data Analytics and Visualization Lab, as well as its nationally recognized and regionally accredited business programs.
Register Now 
For those who aren't sure what their major will be
Wednesday, May 13
5–6 p.m.
Wright State can help students explore majors and career interests. Career and exploratory academic advisors will provide information and tips to help students discover the major that is right for them during this Spotlight event.
Register Now
 Virtual tours
Interested students can also take video tours through areas of campus, explore different buildings on a virtual tour and see why it's great to be a Raider. Explore virtual tours without leaving home.