Bill Rickert, longtime faculty member and administrator at Wright State University, died on Wednesday, June 3, 2020, at the age of 73.
A spirited member of the Wright State family for 45 years, Bill served as professor in the Department of Communication, associate dean and interim dean of the College of Liberal Arts, and associate provost.
"He had more institutional memory than anyone I know," said Shannon Norton, who worked closely with Bill in the Office of the Provost.
Many will remember Bill for his performance as Lord of the Manor in the annual Madrigal Dinner, a role he embraced enthusiastically for more than 30 years. Others will know him as the voice of Wright State: he was a longtime orator at commencement ceremonies, reading the names of hundreds of graduates, and providing instructions when students had to dial into WINGS to register for classes.
Bill had a significant influence on Bruce Cromer, who as an acting student took his Public Speaking course.
"He made a deep impact on me, was one of the best teachers in my Wright State undergraduate years," said Cromer, who is now professor of theatre. "Bill was so impressively relaxed, articulate, composed in his classroom, with a wide variety of people facing one of the biggest fears polled in America. With his superb voice, which had a resonance, a measured strength, and a firm and expressive range, Bill set the standard for speakers (including actors-in-training, as I was) among my faculty members: crystal-clear diction, and that warmth, a very insightful intelligence blended with a grounded humanity."
After Cromer returned to Wright State as a member of the faculty, he would always remember the voices of King Lear, Hamlet and Macbeth when Bill read the names of graduating students at commencement.
"A compassionate, inspirational teacher like William Rickert leaves a deep footprint on the soul of a student seeking a kind and talented mentor," Cromer said.
Bill was patient, honest, humble and kind-hearted. "I could always count on him when I needed anything," Norton said. "If I was planning an office event, he was always the first one to chip in where needed."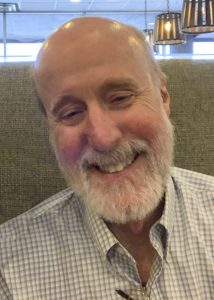 Cromer described Bill as a sane academic and a stable and rational leader. "I've found very few like him in my 30 years in the profession," Cromer said.
An avid bicyclist, Bill loved to ride with his friends, taking day bike rides all around Ohio. He loved to plan a ride that included a midway stop for lunch and a cold beverage. He loved to debate and could argue both sides of any issue with passion and grace. He was well-known for his competitive spirit in chess, pool and ping pong.
He earned his undergraduate degree in speech and English from Illinois Wesleyan University, a graduate degree in speech communication at Central Michigan University and his Ph.D. from the University of Michigan.
His education was interrupted in 1969 when he was drafted into the U.S. Army. He served for two years as a clerk in the personnel office with the 172nd Infantry Brigade in Ft. Richardson, Alaska. His 2014 interview with the Wright State Veterans Voices Project about his military service is available on Core Scholar.
A visitation will be held Monday, June 15, from 11 a.m. to noon at Fearless Church, 2601 E. Alex Bell Rd., Dayton 45459, followed by a memorial service at noon.
Memorial contributions to the William E. Rickert Endowed Scholarship for College of Liberal Arts students can be sent to Colleen Lampton-Brill at the Wright State University Foundation and made on the Wright State website.