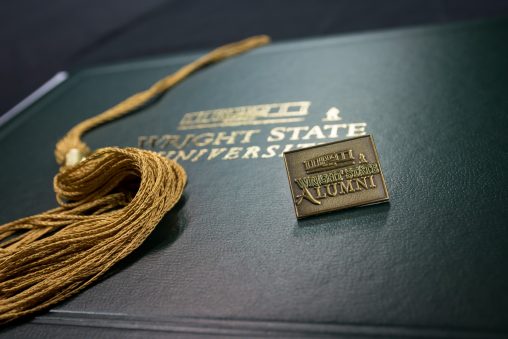 Wright State University will hold its first-ever virtual commencement ceremony on Saturday, Oct. 24, at 10 a.m.
The ceremony will celebrate Dayton Campus spring 2020 graduates and Lake Campus summer 2019 through spring 2020 graduates.
More than 2,100 completed the requirements for graduation after the spring 2020 semester, including graduates who earned 1,490 bachelor's degrees, 576 master's degrees, 25 doctoral degrees and 29 associate degrees. Read more about the spring class of 2020.
The virtual ceremony will be broadcast on Facebook, Twitter and YouTube.
Many graduates submitted photographs of themselves, which will be shared during the virtual experience. After the official 30-minute ceremony, each college will celebrate their graduates with a special message from their dean where every graduate will be recognized by name.
The university had hoped to hold a spring in-person commencement ceremony. But because of the COVID-19 pandemic and state restrictions on large gatherings, Wright State decided to organize a virtual ceremony.
"Commencement is a day that our graduates and families cherish," said Wright State President Sue Edwards. "I know that because it is a day I cherish while watching individuals beam with pride as they are handed a diploma in front of their families and friends. Sadly, the current COVID-19 pandemic prevents us from experiencing that wonderful in-person celebration. However, we will celebrate this very special day with you all, through our first-ever virtual commencement ceremony."
More information is available at wright.edu/commencement.