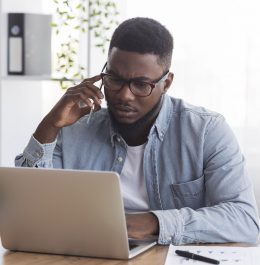 When the COVID-19 pandemic began to affect the Dayton region, Wright State University Boonshoft School of Medicine's Master of Public Health (M.P.H.) Program leaders saw a public health need and immediately reached out to help.
The M.P.H. program is part of the Department of Population and Public Health Sciences and has a close relationship with many of the surrounding health districts.
Jennifer Bailer '10, the health commissioner of the Butler County General Health District, and Erik Balster '10, the health commissioner of Preble County Public Health, reached out to the M.P.H. program for assistance in July due to the rapid increase in cases of COVID-19 in their communities. The M.P.H. program created a plan and pulled together resources at Wright State to provide both counties with contact tracing support.
"Preble County Public Health has a long-standing collaborative relationship with Wright State's MPH program," Balster said. "As with previous experiences, it was a breeze to set up a contact tracing services agreement. It has been a tremendous asset to our communicable disease staff, who had been stretched very thin over the past several months."
Counties needing support are still reaching out and being assisted. This fall, Gabe Jones '12, the Champaign Health District health commissioner, contacted Wright State, and Champaign County joined the contact tracing support program in October.
The contact tracing program is directed by the Department of Population and Public Health Sciences. Overseeing the program are Marietta Orlowski, Ph.D., chair of the department, and Sara Paton, director of the M.P.H. program. The project manager is Camille Edwards, who serves as public health workforce and community engagement director.
Contact tracing is an effective disease control strategy that involves identifying cases and their contacts, then working with them to interrupt disease transmission. The role of the Wright State contact tracing support program is to reach out to people in Butler, Preble and Champaign counties who are infected with COVID-19 or who have been in close contact with someone who is infected. Questions are asked from a list such as, "who were you around" and "can you quarantine safely." The contact tracers also make sure people have what they need and provide information about resources. Data and information collected on positive cases is entered into the Ohio Disease Reporting System and the Ohio Contact Tracing System.
"Wright State Career Services has been incredible in helping us to recruit and hire over 50 students from across campus. Our colleagues from the College of Science and Math and the College of Liberal Arts were also very helpful in recruiting students," said Edwards.
Edwards, with the assistance of two public health students, interviewed all those interested in being contact tracers. Sheri Gladish, M.D., clinical assistant professor in the Department of Population and Public Health Sciences and the Department of Emergency Medicine, also assisted with interviews. Computing and Telecommunications Services (CaTS) quickly moved newly hired students through the onboarding process, created a workflow that ensured all data remain secure and made it possible for student contact tracers to work remotely.
Students received seven hours of training, using the Johns Hopkins University COVID-19 tracing module, an online course that introduced students to the science behind COVID-19, how it spreads and why contact tracing is important. It also provided training on ethical considerations around contract tracing, including isolation and quarantine.
An additional three hours of in-person training was also required on navigating Microsoft Teams, workflow, expectations, COVID-19 facts, motivational interviewing skills and mock interviewing. The training was led by public health students who served as contact tracers and shift supervisors.
Natalie Hicks, a public health graduate assistant, said, "My primary focus has been streamlining the day-to-day workflow, working with CaTS to build and offer a secure way to share information with the counties we support, and creating a paperless process and training program, so our contact tracers can work remotely."
"One of my main roles is preparing students to become contact tracers. I am a leader throughout the training process," added Leah Elliott, a public health graduate assistant.
Kyle Henneke, a third-year M.D./M.P.H. dual-degree student, is responsible for recruiting, training, and monitoring the medical students involved with the program.
"I have created a student-initiated experience where medical students can use this contact tracing work to complete their interprofessional and service-learning experience requirements, included as part of their medical education," said Henneke.
Often, it's the student contact tracers who are relaying a positive test result.
"You call someone and they are completely flustered, it is important to try and calm them down, and display empathy," said Hamza Sultan, a public health student and contact tracer. "Our role can be described as a blend of customer service, where we go through the rote work of following a script, but just like in life, sometimes you have to go off-script."
Orlowski describes this program as a "win-win-win." It provides a skilled workforce to the counties that they might not otherwise have access to, assistance to the community by educating it about COVID-19 and mitigating the spread, and provides learning experiences for students.
"I am thankful to have gained leadership experience and interpersonal development directly from this project," Hicks said.
"By leading in-person trainings, my public speaking skills have improved immensely," Elliott said.
Along with helping the community, another benefit of this program has been the development of a public health workforce. Wright State students from programs across campus, including business, engineering and classical languages, are experiencing what public health is all about.
"This is a great real-world training opportunity and it gives students a chance to make a solid contribution to the health of the public, during a once in a lifetime pandemic," Bailer said.