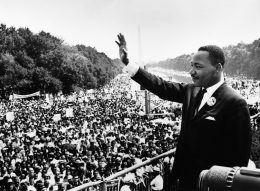 Wright State University will celebrate the life of the Rev. Dr. Martin Luther King Jr. with a special virtual event and an opportunity to assist students in need.
The Bolinga Black Cultural Resources Center will host a virtual celebration, "Honoring the Legacy of Dr. King as an Antiracist," on Monday, Jan. 18, from 6 to 7:30 p.m. on Webex.
The online event will feature contributions by several Wright State staff and faculty members.
President Sue Edwards will open the event with a welcome message.
The celebration will then feature a video tribute to King's life, followed by the reading of select excerpts from his works by Quatez Scott, who recently joined Wright State as the Bolinga Center's intercultural specialist.
Sharon Lynette Jones, professor of English languages and literatures, will discuss "Depictions of Dr. King through Scholarship," featuring works from Angela Davis, Nikki Giovanni, Toni Morrison and Ibram X. Kendi.
Christa Agiro, professor of teacher education, will follow with "White Responsibility in Confronting Whiteness."
"MLK Day, as much as it is about honoring the life and legacy of Dr. King, is also a reminder of the work still to be done in realizing our democracy," Scott said. "America is still a work in progress and it takes all of us to make it a better place. Therefore, in joining these celebrations and taking on Dr. King's call to action, we take an active step in fulfilling true democracy in our society."
Help students in need
In an effort to connect Martin Luther King Jr. Day to community service, the Bolinga Center and the Division of Student Affairs are highlighting opportunities to support students through online donations.
Those who are able to can support students in need by donating online to two important Wright State resources: Raider Food Pantry and the Personal Care and Student Caregiver Pantry in the Women's Center.
Students, faculty and staff are also encouraged to participate in the MLK Legacy Day of Service, which urges people to volunteer to improve their communities.
"In many ways, the King holiday has become a national day of service," said Chris Taylor, dean of students. "That's what we're aiming for. In realizing there are some opportunities that we would normally do that we can't, we still wanted to offer a virtual service opportunity and a virtual celebration."
Other virtual events celebrating King's legacy on Jan. 18 include: