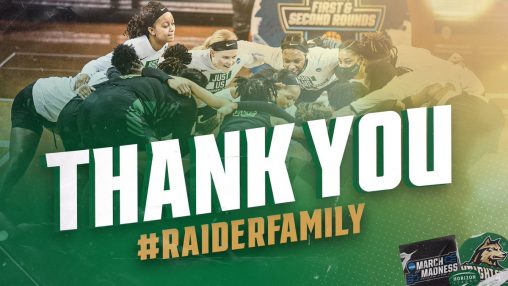 Wright State women's basketball team's historic season came to end as the 13th-seeded Raiders lost to fifth-seed Missouri State 64–39 in the second round of the NCAA Tournament on March 24 in San Antonio.
The Raiders finished the season 19–8. It was quite a year for the Raiders, who won their first game in the NCAA Tournament with a 66–62 victory over fourth-seeded Arkansas. Wright State also won the Horizon League Championship after finishing the regular season with a share of first place in the league.
This was the Raiders' second trip to the NCAA Tournament in three years and third appearance overall.
Against Missouri State, the Raiders struggled to get anything going on offense. After leading 11-10 after the first quarter, Wright State trailed by only five at the half. But the Lady Bears took control of the game in the second half, outscoring the Raiders 40–20 in the final two quarters.
Guard Angel Baker and forward Shamarre Hale each finished with 10 points, while guard Emani Jefferson had an eight-point, six rebound performance as seven Raiders found the scoring column and all 13 players were able to experience playing minutes in the NCAA postseason.
The Raiders blocked six shots on Wednesday, including three from Tyler Frierson. Jada Wright added two blocks of her own and Hale also swatted away a shot attempt.
Wright State tallied 18 points from inside the paint while forcing Missouri State into 12 turnovers that led to 12 Raider points.
Neither team was able to get into an offensive rhythm in the first half, with Missouri State leading 24-19 after shooting 31% from the floor compared to the Raiders' 27%. The Lady Bears went on to shoot 41% in the second half on the way to a 36% clip overall (21-of-58), while the Raiders had an identical 27% shooting rate in the second half and ultimately the game (14-of-52).
Wright State captured its second Horizon League title in three years this season, as head coach Katrina Merriweather was selected as the Horizon League Coach of the Year by her peers for the third time in five seasons. Wright State's first round win over Arkansas was the program's first NCAA win, but the Raiders' fourth postseason win overall, with all four victories coming in the last 11 seasons.