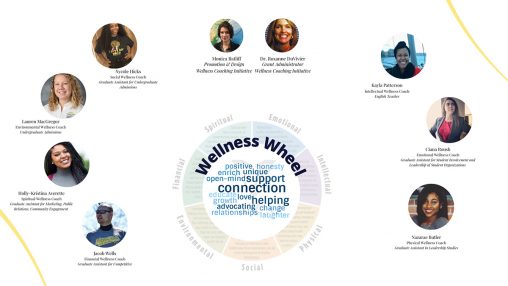 An innovative program created by a Wright State University faculty member provides online wellness coaching for graduate students in the Student Affairs in Higher Education Program. The program also trains some of the students to become wellness coaches who create positive wellbeing activities to help more of their peers.
The graduate students have access to a tele-wellness platform, receive health and wellness coaching and peer-to-peer tele-wellness support, and can participate in a group coaching program called Wellness Wednesdays.
Roxanne DuVivier, an associate professor in the Student Affairs in Higher Education Program, designed the project to help her students receive support for self-care during the coronavirus pandemic.
"This wellness coaching program not only assists graduate students with immediate health-promoting activity, but it also prepares them to more professionally contribute to what is an emerging area of importance for university administration and specifically for student affairs educators," DuVivier said.
Holly-Kristina Averette, who is pursuing a master's degree in student affairs in higher education, volunteered for the project to learn more about self-care and mental health, including actionable ways to cultivate wellness in her personal life.
"This project gave me an opportunity to learn about an area of wellness, find research-backed reasoning for why the area is important, and teach other students about the wellness area," said Averette, who earned a bachelor's degree in mass communication from Wright State. "Not only do I get the opportunity to find information for myself, but it's equally rewarding to learn from other coaches and participants."
DuVivier received a grant of more than $31,000 in CARES Act funding from the Prevention Action Alliance. The grant was awarded as part of the Ohio College Initiative to Enhance Student Wellness in partnership with the Ohio Department of Mental Health and Addiction Services.
DuVivier's project helps students holistically improve their health while learning how to help others by learning wellness coaching techniques.
Graduate students in the Student Affairs in Higher Education Program face "increased stressors and elevated challenges due to the negative impact of the pandemic," DuVivier said.
The Student Affairs in Higher Education (SAHE) Program educates diverse university professionals who work in support roles fostering student success, including in such areas as residence life, health and wellness, multicultural affairs, disability services, admissions, advising, athletics and financial aid. Students learn about health and wellness equity and ways to create healthy campuses and reduce health disparities that decrease college student success.
The program helps students find solutions to balance their graduate studies, work, graduate assistant assignments, internships and personal life stressors while assisting others in meeting the unique challenges the pandemic presents.
"This project is particularly useful as a student in the SAHE program because we also focus on why wellness is important in the profession of student affairs and are provided with practices that we could recommend to students in our professional careers," Averette said.
The project is not part of a class, and student participation in training programs, coaching sessions and wellness action planning is voluntary.
Students learn about maintaining balance and personal wellness, including emotional, social, physical, spiritual, environmental, intellectual and financial wellness. Participants self-assess, create a plan of action and get coaching to stay on track.
Seven second-year graduate students volunteered to coach their peers and are working with DuVivier to develop group programs and provide one-on one-coaching. Coaches received training from DuVivier, a psychologist who has participated in executive coaching training from the College of Executive Coaching in Santa Barbara.
Virtual peer-led group sessions, called Wellness Wednesdays, are held weekly throughout Spring Semester. They conclude with experiential sessions led by regional wellness service providers on topics including breathwork, energy practice, yoga and meditation.
"Each coach has an area of expertise in wellness and they lead in what they know best," DuVivier said. "The programs are designed to help the participants and to share with them why this topic is important to them personally and to their future professional work."
Thanks to the grant, DuVivier is working with Apportis, a telehealth software company in Dublin, Ohio, to create a tele-behavioral health and wellbeing platform. The platform provides students with a library of self-help, wellness resources and evidence-based healthy positive psychology tools.
Averette said she was drawn to the project because it features the Apportis tele-behavioral health app.
"I had never heard of a project like this which used a tele-behavioral health app to help teach students about wellness, and I wanted to be a part of it," she said.
Apportis is training the coaching students to use tele-health and screen-to-screen communications platforms for wellbeing support. Student affairs professionals are mandated to achieve technology competence by professional associations.
"It's a skillset my students will need in the future as more of higher education moves to virtual service delivery," DuVivier said.
DuVivier will share highlights of the wellness coaching program with Ohio colleagues at the Prevention Action Alliance virtual meeting on March 26.