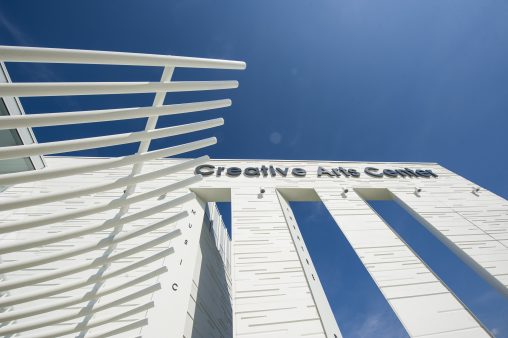 Wright State University Theatre will produce its first live performance in more than a year with "Hamlet: unloaded" by William Shakespeare Saturday, April 3, at 6 p.m. and Sunday, April 4, at 2 p.m.
Wright State's outdoor production of "Hamlet" will be performed on the Creative Arts Center loading dock to ensure physical distancing for the audience and cast.
"Hamlet" is free, but advance tickets are required and can be ordered from the Theatre Box Office at 937-775-2500 or jamie.suttle@wright.edu. Donations will be accepted online or in-person.
Rough and contemporary, Wright State's production will be a "Hamlet" unlike any audiences have seen. The 90-minute adaptation of Shakespeare's tragedy features nine actors playing all the roles.
"Hamlet" is directed and adapted by Josh Aaron McCabe, assistant professor in acting at Wright State who specializes in Shakespeare.
"Hamlet" is just one of several classic, contemporary and original works Wright State's Department of Theatre, Dance and Motion Pictures will produce this semester.
After almost a year of creative silence, the department has come back to life with a spring festival of theatre, films and dance, said Joe Deer, artistic director and chair of the Department of Theatre, Dance and Motion Pictures.
"Both our students and audiences are starved for performance experiences," Deer said. "So, we've taken a creative leap into making productions in ways that are unlike anything we've done before. Our thought is, if we can't bring the audience to the show, we'll take the show to our audiences."
So far, the department has produced "KARENS: A Comedy of Very Bad Manners," "The Theory of Relativity," and the Emerging Choreographers Concert, all of which were streamed online.
The Spring Semester will more COVID-safe and accessible theatre, dance and motion pictures for audiences. Future productions include physically distanced in-person performances in outdoor venues and online streaming productions.
"As always, the variety of plays and musicals, choreography and film subjects and styles is as impressive as the student talent," Deer said.
Faculty and staff have worked with local health officials to create the safest practices for rehearsal and performance.
"If circumstances change due to health concerns, we'll adapt to accommodate them immediately," Deer said.
Other spring Theatre, Dance and Motion Picture productions
"Antigone" by Sophocles, April 10–11: In-person outdoor classical drama in Wright State's outdoor amphitheatre
Wright State Dance Ensemble in Concert, April 16–18: Online dance concert
Big Lens Film Festival, April 22 at 5:30 and 8 p.m., Drive-in showings at the Dixie Twin Drive-In
Parking Lot Fringe Festival, April 24–25: In-person performance festival outside the Creative Arts Center and parking lot
"Fugitive Songs," April 30–May 2: Online contemporary musical theatre