Excerpt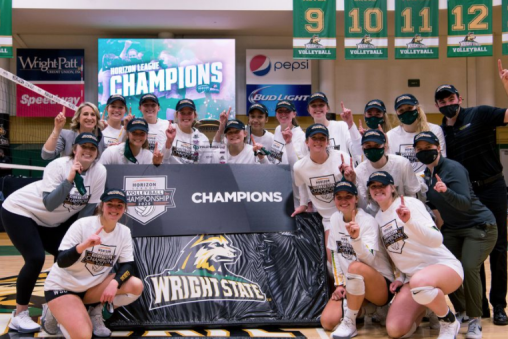 Wright State planned for a long stay when it left Sunday for the NCAA volleyball tournament.
The entire event is being held in Omaha, Neb., and the coaches and players stuffed their suitcases with enough outfits and gear to get them through an extended run.
Asked after a first-round win Wednesday how much they packed, coach Allie Matters said: "Not like a 'Final Four' amount of clothes, but we did bring detergent in case we had to do laundry. I think we'll be good going into tomorrow."
The Raiders were beyond good against Samford while breezing to a 3-0 victory, winning 25-20, 25-12, 25-15.
They became the first Horizon League team to notch an NCAA victory. The conference had been 0-29.
They'll play in the second round at 7 p.m. today against Texas (23-1), the Big 12 champs and No. 4 overall seed. The winner will advance to the Sweet 16 on Monday.
"We knew if we played well, we had a really good chance of beating (Samford)," Matters said. "But we didn't think it'd be as dominant as it was."
Lainey Stephenson, the league setter of the year, had 27 assists in the match — blowing past her season average of 6.3 per set — and added four kills and 10 digs.
"It just becomes contagious. As much confidence as our hitters get from Lainey, Lainey gets confidence when our hitters are putting balls away," Matters said.
Teddie Sauer, a first-team all-league pick, had five kills and six solo blocks on the way to a team-high 13 points. She also had four aces and kept the Bulldogs (15-4) off balance with her deliveries.
"She's been really feeling it this year, and she was good yesterday in practice," Matters said of Sauer's serving. "We let her go for it, and she looked really fresh.
"She was able to contribute in a lot of statistical categories. She put the team on her back and really got everyone pumped."
The Raiders (17-1), who won their first league tourney title this year, had hitting percentages of .324, 308 and .281 in the three sets. Their average was .218 (fifth in the league).
"Making history again is just crazy awesome," Sauer said.
"Our connections were just on point tonight," she added. "It feels a little unreal, but it's on to the next one."
In the first set, the Bulldogs chopped a 24-16 deficit to 24-20 but lost on a service error. The final two sets were tension-free.
Megan Alders and Nyssa Baker had nine kills each. Alders tied Celia Powers for the second-most points with 10.
"Megan has had a tough couple of matches, but I thought tonight she came in all fired up and focused," Matters said.
"Because you don't hear her name often, I don't think Samford was necessarily planning for her to do so well. She made them have to pay attention to her, and I don't think they did very well."
The Raiders avoided having to open against a Power-5 behemoth since the field was trimmed from 64 to 48 because of the pandemic (the top 16 teams received first-round byes).
They were blasted by Purdue in their first NCAA trip last season.
They'll find out how far they've progressed when they tangle with fifth-ranked Texas.
"The majority of the season, there's been a lot of pressure on us to perform and win. As far as I'm concerned, the pressure is on Texas, not us," Matters said.
"If Texas wants to mess around, we'll be ready. It's up to Texas whether they want to respect us or not. We're really, really excited, and we'll take that energy into tomorrow."
View the original story at daytondailynews.com