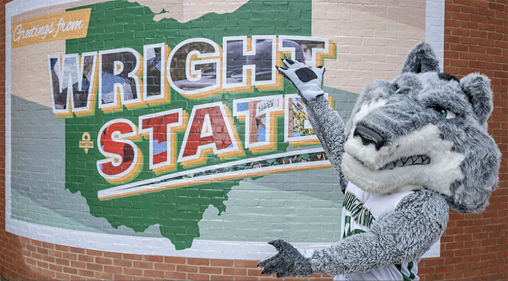 Future students and their families can learn more about Wright State University, explore majors and programs, and tour the Dayton Campus during Raider Open House on Saturday, Oct. 30, from 9 a.m. to 12:30 p.m. starting in the Student Union.
Raider Open House gives future undergraduate students, including transfer students, and their families an opportunity to connect with faculty, staff and students from departments and programs from across the university.
Registration is required. The deadline to RSVP is Oct. 28.
During Raider Open House, future students will learn about all that Wright State has to offer, including Wright State's 150 academic programs, the University Honors program, campus life and more.
Attendees can tour campus, visit interactive classrooms, walk through the tunnels and check out on-campus student housing. Sessions and tours will be offered at various times during Raider Open House, allowing students to personalize their experience and learn more about topics that interest them.
Participants can also get help starting their application to Wright State and learn how to pay for college and the financial aid process and how to transfer credits.
Attendees can also learn about the Wright Tuition Guarantee Program, which enables students and families to more confidently plan their finances and provides an incentive for graduating on time. The Wright Tuition Guarantee Program locks in the same annual cost of tuition, housing and dining over a four-year college career for newly admitted, degree-seeking undergraduate students who are Ohio residents.
Everyone is required to wear a mask when inside all buildings on Wright State's campus.
For more information, contact the Office of Admissions at 937-775-5700 or admissions@wright.edu.
Other ways to explore Wright State
Wright State offers in-person daily tours of campus. Available times are listed on the calendar of events. Click on the time slot you are interested in and complete the registration form. Each student may bring up to two guests.
Future students can also explore campus and housing options on a virtual tour at wright.edu/virtual.