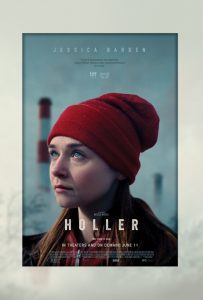 "Holler," the directorial debut movie by Wright State University motion pictures alumna Nicole Riegel, was named one of the Top 10 Independent Films of 2021 by the National Board of Review.
The National Board of Review's annual film awards are considered an important step toward the Oscars. The National Board of Review is made up of a group of film enthusiasts, industry professionals, academics and filmmakers.
The organization released its list of the best films of 2021 on Dec. 2. Its critics selected winners for best picture, director, acting, foreign language film, animated feature and documentary. The board also released several lists of top films including the best independent films.
"Holler," which Riegel wrote and directed, is a drama about a woman who joins a dangerous scrap metal crew to pay for college. Although it is fictional, the film was based and filmed in Jackson, Ohio, where Riegel grew up.
Set in a community where manufacturing is drying up, the film follows teenager Ruth Avery, who joins a crew that works scrapyards during the day and steals valuable metal from factories at night. Ruth finds herself torn between a promising future offered by a college education and the family she would have to leave behind.
"Holler" was an official selection of the Toronto International Film Festival, the SXSW Film Festival and the Deauville Film Festival in 2020.
It was released in theaters and on-demand on June 11, 2021, by IFC Films, which acquired the film's North American rights.
Riegel has received attention from numerous media outlets for "Holler," including Variety, Vanity Fair, Vulture, NPR and RogerEbert.com.
Prior to enrolling at Wright State, Riegel served in the Army National Guard.
She graduated from Wright State in 2009 with a bachelor's degree in motion pictures, studying with Wright State filmmakers Julia Reichert and Steven Bognar. Riegel started producing plays in Wright State's Directing Lab, a small theatre available to students who want to rehearse or present their own theatrical productions.
She is also a graduate of the Master of Fine Arts writing program at the University of California-Los Angeles.