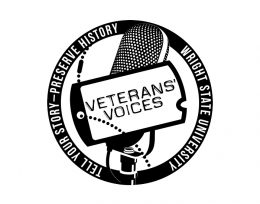 Wright State University alumni and a staff member are prominently featured in the latest season of "Veterans' Voices" on 91.3 FM WYSO Public Radio.
Wright State graduates Marilyn McCauley '89, Audrey Smith '99, Psy.D., and Bridget Federspiel '05 were interviewed about their work with veterans.
Seth Gordon, Ph.D., director of the Veteran and Military Center, also participated in three of the interviews in the series and helped develop "Veterans' Voices."
The new season of "Veterans' Voices" highlights the work of Veterans' Champions, people who serve veterans by providing them with medical care, counseling, educational opportunities, jobs and moral support. The season helps listeners understand what veterans contribute to the Miami Valley and the work that is being done to help them thrive.
New episodes air every Wednesday during NPR's "Morning Edition" and are also available at wyso.org/veterans-voices.
A veteran-to-veteran storytelling project, "Veterans' Voices" is produced by WYSO and Wright State's Veteran and Military Center.
In her "Veterans' Voices" story, McCauley talks about the veteran who inspired her to start Operation Fairborn Cares, a grassroots organization that helps post-9/11 veterans transition to civilian life.
McCauley, who received a bachelor's degree in business management from Wright State, has strong ties to the university. She established the Boots to Books Veterans Support Fund, which helps student-veterans make ends meet. She also served on the Alumni Association Board of Directors and in 2009 received the Volunteer Service Award from the Wright State Alumni Association.
Smith, who received her doctor of psychology degree from Wright State's School of Professional Psychology, works with veterans as a readjustment counselor at the Dayton Vet Center.
In her interview, she discusses how she helps veterans and their families cope with the trauma that often comes with military service.
Federspiel, who teaches history at Stivers School for the Arts, has organized an oral history project in which her students interview veterans who served in conflicts from World War II to Afghanistan. Those interviews are sent to the Library of Congress for its Veterans History Project.
In her interview, Federspiel discusses her Fulbright-sponsored trip to Vietnam and how she has visited the locations she teaches to her students to be able to better describe them.
Federspiel, who received a master's degree in history from Wright State, organized a similar veterans' oral history project at Wright State in collaboration with the Veteran and Military Center.
Gordon is featured in one discussion in which he explains how the Veteran and Military Center was designed to help veteran and military-connected students feel like they belong at Wright State.
"When they walk on campus, they don't feel that invisible thing," Gordon said. "We've done things to make it feel like they're wanted there."
The Veteran and Military Center and the New Media Incubator at Wright State also collaborated on a documentary film, "Veterans Voices: Lives and Stories" and a related series of six webisodes. The film project involved numerous students who appear on screen and behind the camera.