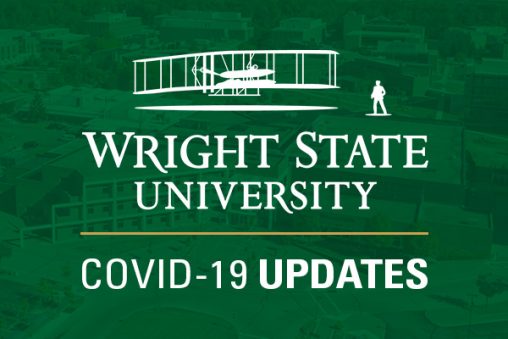 Wright State University, along with all other Inter-University Council of Ohio public institutions, has revised its mask policies for the Dayton Campus and Lake Campus.
Effective March 3, face masks are optional in the following on-campus areas:
University Libraries
Student Union public spaces
Dining areas
Campus Recreation Fitness Center
Wright State Nutter Center
Indoor public performances and athletic events
Indoor public areas in most campus buildings, including hallways, common spaces and conference rooms (see exceptions below)
Campus housing common spaces
Outdoor spaces
Masks will still be REQUIRED in the following locations:
Classrooms
Lab settings
Individual offices, if requested by an employee
Campus transportation
Health services, including Student Health, Wright State Physicians and the Dayton Campus Testing and Vaccination Center
In an email to the Wright State community, Chris Taylor, Ph.D., dean of students and chair of the university's COVID Task Force, attributed the policy revisions to the continued decline of COVID-19 cases on campus and in the surrounding communities and the updated face masks guidance from the Centers for Disease Control and Prevention.
Last week, the CDC eased its recommendations for mask-wearing and released a new assessment tool called COVID-19 County Community Levels. Community levels can be low, medium or high and are determined by assessing local hospital capacity and admissions and the number of new COVID-19 cases in an area.
Greene County and Mercer County are currently at medium (yellow) risk level.
"If you are at high risk for illness, you should consult with your health care provider and consider continuing to wear a mask," Taylor said. "If you live with or get together with someone at high risk for severe illness, you should also consider taking a COVID test and wearing a mask when indoors with them."
The use of masks continues to be an effective method of protection. Surgical masks and KN95s are available at the Student Union Welcome Desk and Dunbar Library on the Dayton Campus and at the main entrance by Student Services, the Library entrance of Andrews Hall, the Agriculture and Water Quality Education Building, and Trenary Hall at Lake Campus.
Surgical or KN95 masks are also available to department offices or other support areas from Facilities and Environmental Health and Safety.
"Some members of the Raider and Laker family will prefer to keep wearing masks, and I ask that we all support these personal preferences," Taylor said. "I also ask that everyone continue to be respectful of others and look out for each other."
Wright State continues to strongly encourage faculty, staff, and students to get a COVID-19 vaccine and booster. The vaccine remains the most effective tool to prevent the spread of COVID-19 and protect those who cannot get vaccinated.
Vaccine appointments are available on the Dayton Campus at Wright State Physicians by calling 937-245-7200 or at gettheshot.coronavirus.ohio.gov.
The university will continue its random COVID surveillance testing program. Anyone who is fully vaccinated will be exempt from testing if they upload an image of their federal vaccine card to Med+Proctor at secure.medproctor.com/Account/SignIn.
Free rapid COVID tests are also available at the Dayton Campus Testing and Vaccination Center (023 Student Union) and at the Lake Campus Student Services Front Desk.
Anyone who is sick should stay home and get better before returning to class or work.
Wright State will continue to evaluate its health and safety protocols as guidance changes and communicate important updates as needed, Taylor said.