Excerpt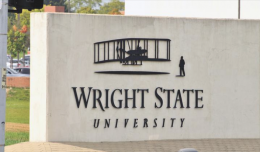 Wright State University has a long history of partnerships with Wright-Patterson Air Force Base. Those efforts continue today, and are growing each year with new programs, facilities and events meant to connect students with the base.
One of the newest projects between Wright-Patt and WSU is the construction of an MRI facility that will be located in the university's Neuroscience Engineering Collaboration Building. The partnership with the Air Force Research Laboratory (AFRL), which is headquartered at the base, will support human performance and health research.
Madhavi Kadakia, vice provost for research and innovation at Wright State, said they expect this will lead to co-location of other research facilities on campus.
"That is a very, very exciting collaboration," Kadakia said.
Col. Patrick Miller, 88th Air Base Wing and installation commander at Wright-Patt, said they are working on partnerships with WSU to help address the base's facility issues that stem from a lack of space and aging infrastructure.
"We're working on partnerships with Wright State in potentially helping us address some facility issues, with some excess facilities on that campus," Miller said.
Wright State also is working with Air Force leadership to increase research collaboration that will team Wright State faculty with subject matter experts from AFRL on additional research areas. In addition, WSU is seeking input from AFRL on future strategic hires the university could make that would align well with their needs.
"We are very committed to supporting these collaborations with program activity as well as financially," Kadakia said.
For students, Wright State offers a program where contract specialists at the base conduct information sessions with students, as well as an Air Force interns event program to inform students of what's currently available and how to apply. The university also holds career fairs in the fall and spring, allowing students to learn about all the careers and internship opportunities available at Wright-Patt.
Most recently, Wright State held an event with the National Air and Space Intelligence Center (NASIC), also located the base. NASIC officials spent an evening on campus, educating students on the application process. Kadakia said this information is important because applying for a job at the base is different than other careers.
Beyond the application process, students looking for careers at Wright-Patt also need to be informed about the security clearances that are necessary to perform certain work at the base. The state of Ohio recently awarded Wright State with funding to establish a clearance ready program, which helps position students to more quickly and efficiently obtain security clearances. Kadakia said this has been identified as a priority for the base.
Wright State also taps into its vast alumni network to help students. The university has a significant number of graduates who obtain careers at the base, and many are willing to return to the campus to discuss their experience and inform students about how they can get their foot in the doors of Wright-Patt.
"These are some of the ways we're trying to help our students engage with alumni and get ready for opportunities at the base," Kadakia said. "We have a longstanding relationship (with the base), and we are focused on expanding that relationship."
Miller said the base has graduate-level medical education partnerships with Wright State. The Wright-Patterson Medical Center is the second-largest hospital in the Air Force, and is in constant need for personnel. Many of these employees, including officers, medics, doctors and nurses, attend courses at WSU. In addition, students often perform internships or residencies at the installation.
"Wright State has just been a fabulous partner with Wright-Patterson Air Force Base over the years," Miller said.
View the original story at bizjournals.com