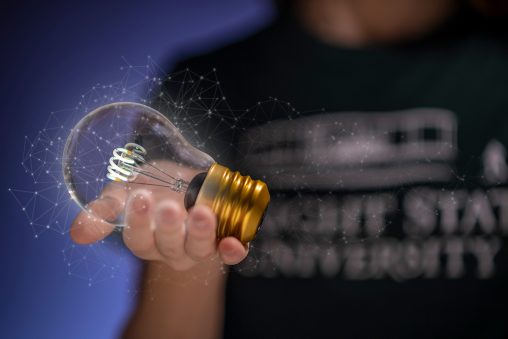 By Jessica Graue and Jim Hannah
The list of inventions created in Dayton is a long one that includes airplanes, cash registers, and even ice cube trays. For hundreds of years, and to this day, Daytonians have been coming up with brilliant and creative ideas.
That spirit of innovation carries on at Wright-Patterson Air Force Base and the many colleges and universities in the area. Wright State University is a perfect example of where innovation grows and flourishes.
Innovation at the Lake Campus
The Agriculture and Water Quality Education Center opened in 2018 at the Lake Campus in Celina as a place where students can get hands-on education by taking advantage of Mercer County resources. Students attend "lab" on local farms and continuously analyze the water quality of Grand Lake St. Marys.
Stephen James Jacquemin, Ph.D., professor of biological sciences, said access to clean water is a global issue and techniques to improve it are critically important to the Midwest and beyond. Jacquemin's students monitor water quality in the lake as well as its tributaries. The team also works to restore natural habitats and wetlands.
"The center serves as a hub for environmental and conservation work. This work has all been made possible by undergrads," he said. "They [undergrads] are pivotal in the monitoring process. They go out every week, no matter what, to collect samples and bring them back to the lab for analyzing."
Grand Lake St. Marys has experienced toxic algae issues in the past, and the students' work has improved the lake's quality. Students put floating wetlands in the lake and have worked with the Grand Lake St. Marys Restoration Commission.
"We've lost a great amount of wetlands in North America. Research shows they are important for wildlife and the remediation of nutrients. If we don't improve the issues here and beyond, there won't be aquatic resources for the future. We should be proud of the work our students are doing," Jacquemin said.
On the agricultural side, students learn about animal production, agronomic production, local crops, turf grass management, and the science behind how these things are created, maintained, and used to make money. The center makes it possible for this kind of learning.
"The cool thing about the center is that it provides space for students to have hands-on lab experience as well as classroom space," said Aubrey Lowrey Jaqueth, Ph.D., assistant professor of agriculture and animal science. "The fact we have this center at this location is great because we can take advantage of the land around us."
The agriculture students work with local farms and high schools on projects. In the future they will study pasture systems, livestock behavior and nutrition, and how livestock affect the environment. These partnerships with the community make these more involved research activities possible.
"We have a strong agricultural industry in this area. We make sure the next generation of students are equipped with the tools they need to work in Mercer County. Many students end up going back to family farms after their degree. Some go into nutrient management or soil and water conservation," Jaqueth said.
Wright Venture
Start-up businesses and innovation are closely connected. The Raj Soin College of Business at Wright State offers degrees in entrepreneurship and has an Entrepreneurship Club for students to join. In 2015, these developments led to a business competition called Wright Venture, supported by the James Family Entrepreneurship Program and the Wright State University Foundation.
Modeled after ABC-TV's "Shark Tank," Wright Venture competitors have a weekend to create a business and marketing plan and present it to the expert panel of "wolves." Students participate in workshops, work with mentors, and have a chance to win a $5,000 investment in their business idea.
"With a limited amount of time, students end up with an extremely valuable educational experience. They learn all aspects to create an innovation. Students learn how to make a successful start-up," said Tom Traynor, Ph.D., dean of the Raj Soin College of Business.
One successful start-up that continues to offer its services is the 2021 Wright Venture winner. TUMBLE, an on-demand laundry and dry cleaning service, was pitched by students Jeffrey Caldwell and Charles Wheeler. Both said that participating in Wright Venture was meaningful and validating.
"It was a good experience overall to see what it's like to pitch a business. It was good to sell an idea in a formal setting," Wheeler said. "The feedback from the judges really helped and showed us we are capable of anything we put our minds to."
Beyond pitching an idea for a business, participants must create a marketing and financing plan and figure out how they will reach their intended audience. Mentors help the groups, but the competition forces students to employ a variety of skills.
"It really helps to get your ideas down on paper. You build skills that are necessary to do anything, like public speaking. It [the event] is competitive. There were tons of people with mind-blowing ideas, but we proved that you just can't beat a great idea," Caldwell said.
Wheeler and Caldwell have been reinvesting the $5,000 they won back into the business. They now have merchandise and a subscription service. Their services have also expanded to patio furniture and wedding clean-ups. They plan to work the business on the side with the possibility of doing it full time in the future.
Planning for the next Wright Venture is currently underway. The presentations are scheduled for April 2022. Kendall Goodrich, Ph.D., chair and professor in the Department of Marketing, said he is looking forward to the next event.
"Any student who dreams of taking an idea forward should see this as a great opportunity. There are always some pleasant surprises with what the students come up with," he said.
Innovation Weekend
Another event that pushes students to think creatively is Innovation Weekend, hosted by the College of Science and Mathematics. This event started in 2018 and asks students to brainstorm problems, pitch solutions, work with other students, and connect with local business partners.
"It goes beyond anything that's a lecture-based class. They have to do so much in such a short amount of time. They interact with potential employers and real problems. We're not making this stuff up," said Kathy Engisch, Ph.D., interim dean of the College of Science and Mathematics.
Each weekend has a theme; the most recent theme was "The Psychology of Connection: From Education to Work and Space." Teams came up with two ideas—a biosensor that reports when a student is struggling with stress and a virtual reality classroom.
The event in 2019 had the theme of "Developing Technology for Independent Living." The top team won with the idea of a smartwatch and GPS sensor that combines health monitoring with location to address life-threatening health events along with issues of elderly wandering and getting lost. The runner-up's idea was for a sleeve that would help stop the hand tremors associated with people who have Parkinson's disease.
Beyond coming up with ingenious ideas, students learn about public speaking, collaboration, research, and time management. The event also brings together people from different disciplines. AJ Duch, a member of the 2019 runner-up team and 2020 graduate of Wright State's middle childhood education program, said the weekend is a great way for students to try something new.
"It gets students out of their comfort zone. Hearing all sorts of ideas from different majors was really neat. Everyone was searching for ideas to help. All these people were working to help people, just in different ways," Duch said.
Engisch said the weekend is a chance for students to think creatively about the problems of our time, to bond with teammates, and to get experience they will use in the future. Also, the methods used allow students to be free of old pathways and apply those methods throughout their lives to solve problems.
"We have two steps of Post-it Note brainstorming. The room is quiet as everyone tries to think of as many aspects of the problem as they can. After we put up all the Post-it Notes along the whiteboards, organizing by topic, we have another brainstorming session about solutions. We instruct participants to not edit their thoughts; the goal is to fill as many Post-it Notes as possible. The best ideas come after your 10th or 11th note. The first notes are what everyone is thinking; the last notes are the original ideas no one has thought of before," Engisch said.
Engisch said the college is looking for an external partner to provide input on a problem for the next Innovation Weekend, but the coordinators are hoping to try new things such as a mathematical analysis or computer modeling component; multiple small challenges with prizes throughout; and prizes for individuals with the most ideas or group members displaying leadership or collaboration.
Partnership with Infinity Labs
With so many innovations originating in academia, how do we move them forward to market? This is the question that led Wright State to team up with Dayton-based research and development firm and national security solutions provider Infinity Labs, providing another avenue for student experiences.
Infinity Labs was founded in 2020 by seven local executives with experience as military veterans and a former civilian from the Air Force Research Laboratory (AFRL). Half of the company's founders are Wright State alumni.
Infinity Labs offers expertise in modeling, simulation, analysis, and cybersecurity, including anti-tamper, weapons, and infrastructure vulnerability assessments; research and development, tech transfer, commercial product development, biotechnology, nanotechnology, augmented reality and virtual reality, game design, aircraft power and propulsion, defense acquisitions, and technology evaluation and transfer.
"We are excited to partner with Wright State in building an R&D center of excellence in downtown Dayton that will enable recruiting, developing, and retaining future talent to the region," said Ken Edge, the company's chief executive officer.
Edge earned his master's degree in electrical engineering at Wright State in 1998 and was the senior military leader for 120 people in the Electronic Warfare and Cyber Division in the AFRL's Sensors Directorate. Jason Molnar, chief strategy officer, a decorated Army officer, brings significant combat experience to the table. Molnar transitioned his military experience to private industry supporting Special Operations Forces around the world and growing all-source intelligence capabilities within the National Air and Space Intelligence Center.
Joseph Kirby, chief operating officer, earned his bachelor's degree in computer science at Wright State in 2003. Kurt Glendenning, chief product officer, earned bachelor's and master's degrees at Wright State in 2013 and 2015, respectively.
Four months after opening, Infinity Labs was selected by the Air Force as a prime contractor for a $950 million contract for an advanced battle management system. The company has received prime contracts with several other organizations both within and beyond the Department of Defense.
"Wright State University has an undeniable presence in Dayton, and the administration's leadership team is boldly seeking industry partners to enhance their curriculum, enrich students, and provide a return-on-investment for the wider Dayton community," Kirby said.
Weighing all these activities, it's safe to say the long-standing spirit of innovation in Dayton lives on, especially at Wright State.
This article was originally published in the spring 2022 issue of the Wright State Magazine. Find more stories at wright.edu/alumnimag.