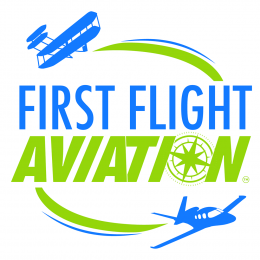 Wright State University has forged a new partnership with First Flight Aviation, a flight school located at the Dayton-Wright Brothers Airport.
Under the innovative arrangement, Wright State students will be able to register for flight training classes offered by First Flight Aviation. The courses will be considered special topic electives, and the credit hours students earn will count toward their graduation requirements.
Students will have access to all ground and flight training necessary to complete the required pilot ratings.
First Flight Aviation is a Federal Aviation Administration-approved Part 141 flight school and delivers one of the most comprehensive curriculums in the industry.
"I think this new partnership will be a huge value to students and the region. First Flight Aviation offers a professional pilot training program and provides students with a comprehensive educational experience," said Glenn Crawford, president of First Flight Aviation. "Ratings we offer include private pilot, commercial pilot, instrument, multi-engine and certified flight instructor."
The partnership is another way Wright State is working to give students the education and skills they need to pursue in-demand career opportunities.
"This partnership is about providing our students an opportunity to expand their skill set portfolio while at Wright State," said Wright State President Sue Edwards, Ph.D.
It also may help with a pilot shortage that the Federal Aviation Administration projects will be a persistent problem over the next several years.
"I am extremely excited about the new partnership between Wright State University and First Flight Aviation. Flight training is an ideal use for our Dayton-Wright Brothers Airport. The program may help with the nationwide pilot shortage issue," said Gil Turner, aviation director for the City of Dayton.
Edwards and Tom Gunlock, chair of the Wright State University Board of Trustees, said that a university named in honor of the Wright brothers should begin to develop an innovative aviation program.
"It is time for Wright State to take its first steps to become a leader in aviation-related education," Gunlock said. "The university can accomplish this by initially offering students an opportunity to receive pilot training through First Flight Aviation with the goal of becoming a leader in the aeronautical realm by the end of this decade."
The university hopes the agreement with First Flight Aviation is just the first step in what will become a more vibrant relationship.