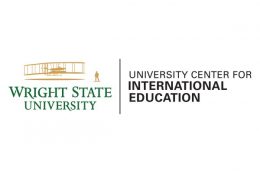 Wright State University currently enrolls more than 1,000 F-1 and J-1 student visa holders from more than 55 different countries around the world. Like many students, they will eventually seek internships or entry-level jobs that will help them begin to apply what they learn in the classroom in a practical setting.
Many employers in the United States do not realize they can hire international students, said Michelle Streeter-Ferrari, director of the University Center for International Education (UCIE) at Wright State.
"A lot of these students are able to work off campus as part of an internship or post-graduation practical experience," she said. "This is an important part of their return on investment for their education at Wright State. Students who have been able to take advantage of these opportunities have benefited greatly from them."
Taha Etekbali, a student from Libya, recently took part in a Curricular Practical Training (CPT) internship with A-T Controls. CPT internships are available to international students as a part of established curriculum and must be connected to the student's major area of study. Eligible students must have current, valid F-1 status, be enrolled full-time for one academic year and continue to be enrolled for a full course of study during the CPT.
Etekbali said that UCIE helped him update his resume and set up mock interviews and that his time working in the field has been of great value.
UCIE often partners with Career Services to help international students prepare to enter the workforce.
"I learned about a field that I didn't know much about," Etekbali said. "The company I work for sells actuators and valves. I learned the different application of materials used for valves and how different valves are used for different applications. I applied what I learned in school to practical real-life situations."
Etekbali said his goal after graduation is to work in the building systems sector on pipe systems for buildings and plants, HVAC systems and energy-efficient buildings.
"I think my internship is helping me because I am directly working with piping products and the specific design of them and their applications," he said. "I learned about the different materials that are used to carry material through pipes. Overall, I feel like the opportunity gets me closer to my end goal and teaches me small parts of building systems."
International students who graduate from a U.S. university such as Wright State and have an F-1 visa can work in the United States in their degree field for one to three years through Post-Completion Optional Practical Training (OPT).
Alekhya Nangineni, who graduated from Wright State with a degree in computer science, participated in the OPT program as a software development engineer at Amazon.
Nagineni said she was excited about the opportunity to work for Amazon and believes it will play a major part in building her career.
In addition to helping with polishing her resume and LinkedIn profile, UCIE helped her with various queries regarding immigration.
"I chose Wright State University because of its computer science program," Nagineni said. "It was the best decision I ever made and very satisfied for becoming a part of the Raider family."
Some students such as Shubham Solanki, an industrial and human factors engineering alumnus from India, have taken advantage of both opportunities. Solanki secured a CPT internship with Norfolk Southern based on the knowledge he gained in his courses in industrial engineering, supply chain management and data analytics.
He graduated shortly after the start of the COVID-19 pandemic and had a hard time getting a job for about six months. Eventually, he said Amazon reached out to him looking for operation management people. He said that the background and skills he learned from his CPT internship, such as scheduling optimization, helped him to get the job. He currently works in the semiconductor industry in global supply chain management.
Employers interested in hiring international students can find more information on Wright State's Guide to Hiring International Students (PDF).
The University Center for International Education is located at 334 Student Union and is open Monday through Friday 8:30 a.m. to 5 p.m. General inquiries can be made by emailing askucie@wright.edu. Immigration questions can be sent to ucieimmigration@wright.edu.