The Wright State University volleyball team will return to the NCAA Championship for the third time in the last four seasons after sweeping No. 2 seed Northern Kentucky on Nov. 20 for its second Horizon League tournament title in school history.
The Raiders (29-3, 18-3 Horizon) won their 23rd consecutive match to earn an automatic bid in the NCAA Championship, with Selection Sunday set for Nov. 27 at 7:30 p.m. on ESPNU.
Jenna Story was named the Horizon League Tournament MVP after recording 41 digs (5.86 per set) across Wright State's two postseason wins. Callie Martin and Sam Ott were both named to the All-Tournament Team.
Playing on their home court in the McLin Gymnasium, Wright State jumped out in front by taking the opening set 25-18, followed by a 25-20 final tally in set two. The Raiders trailed 17-15 in the third set but closed the period on a 10-6 run to seal the sweep.
Ott finished with a team-leading 13 kills and a season-high five aces to pace the Raiders. Megan Alders tallied 10 kills, while Taylor Bransfield and Aaliyah Byers finished with nine apiece in the category.
Katie Meyer passed out 40 of Wright State's 45 assists. Story (19) and Martin (12) notched double-digit digs to lead the Raiders' efforts defensively.
As a team, Wright State tallied a .252 hitting percentage, including a .486 mark with 17 kills and no errors in set two. Northern Kentucky (18-13, 15-3 Horizon) was held to a .165 hitting percentage while also committing 16 errors.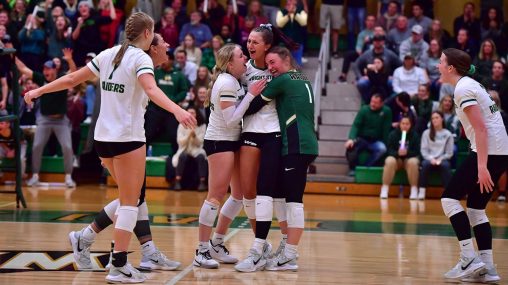 Raider defeat Cleveland State in four sets in semifinals
Wright State advanced to the tournament finals by beating No. 4 seed Cleveland State in four sets on Nov. 19 in the tournament's semifinals.
Wright State grabbed control early, taking the opening set 25-18. However, the second set finished 25-20 in favor of Cleveland State (14-17, 10-8 Horizon), tying the semifinal. The Raiders got back in front with a 25-16 third-set victory before sealing the postseason win with a come-from-behind 25-22 final tally in set four.
Sam Ott led the way with a match-high 17 kills to go along with six digs and four blocks. Callie Martin recorded a double-double with 14 kills and 11 digs, while Taylor Bransfield tallied 11 kills. Aaliyah Byers also reached double-figure kills with 10 on 21 attempts. Katie Meyer passed out 50 of Wright State's 59 assists in addition to 14 digs.