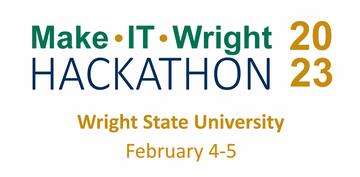 Wright State University students can help develop solutions to resolve existing and future supply chain bottlenecks during the Make-It-Wright Hackathon.
The hackathon will take place Feb. 4–5 in the Russ Engineering Center.
Students from all majors are invited to participate. Students and volunteers can register at aim-na.org/digital-supply-chain-make-it-wright-hackathon.
Food, drinks and equipment will be provided. Prizes will be awarded to the top three teams.
A hackathon is an "invention marathon" during which participants engage in rapid and collaborative engineering to create functioning software or hardware over a short period of time.
During the Make-It-Wright Hackathon, teams of two to four students will tackle the challenges of building resilient supply chains in the food and health care industries, both of which have been disrupted by the pandemic.
Using digital transformation technologies, such as barcodes, radio frequency identification and real-time location systems, students will create an application that can break existing and future supply chain bottlenecks. The solutions developed will support the United Nation's sustainability goals.
"The hackathon will provide a platform and an opportunity to the young talent to develop digital business solutions using their creativity and innovation," Jeanne Duckett, chair of AIM North America and lead hackathon developer.
With the assistance of industry experts, students will gain a better understanding of how innovation in supply chains can lead to more sustainable production patterns.
Students will get exposure to real-world problem-solving skills, prepare for programmatic success and learn about workforce needs in the Dayton region. They can also connect with industry or government partners and learn about research internships and employment opportunities.
"Hackathons are an incredible way to bring our interdisciplinary students and community together to learn new skills, build amazing projects and share ideas," said Matt Kijowski, cyber systems program manager and hackathon lead at Wright State.
Training sessions for participating students are planned for Jan. 19 and 26 and Feb. 2 from 5:30 to 8 p.m. in Russ Engineering Center. The sessions will be led by supply chain professionals.
The hackathon is organized by AIM North America and Wright State and is sponsored by Avery Dennison, AIDC 100, The Material Handling Education Foundation, GS1 US, Honeywell, Aware Innovations, BarTender by Seagull Scientific, Mojix, NOVEXX Solutions, TSC Printronix, AIS, BlueStar and Zebra.