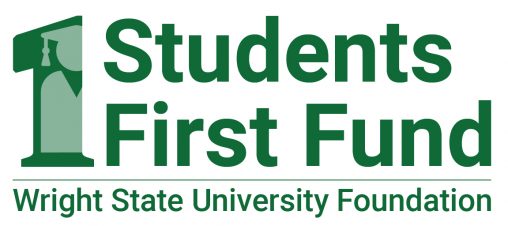 The Wright State University Foundation has selected 10 projects at the Dayton and Lake campuses as the latest beneficiaries of the Students First Fund grants program.
Launched in January 2019, the Students First Fund was created by the Wright State University Foundation Board of Trustees to help fund innovative ideas that enhance the Wright State student experience.
This year, Wright State students, faculty and staff submitted 26 grant applications totaling over $248,000.
"We are always impressed with the quality of the grant applications that we receive. This year was no exception," said Dave Donaldson, chair of the Students First Fund grants committee. "With so many worthy projects competing for a limited amount of funding, it's never easy to decide which ones to select. The 10 projects that were funded will have far-reaching impacts on both the Dayton and Lake campuses."
In selecting the projects, Donaldson said that the Students First Fund grants committee wants to impact as many students as possible. The committee also encourages and expects all grant recipients to leverage existing equipment, supplies and resources across campus whenever possible.
"We would like to thank all of the faculty, staff and students who took the time and initiative to submit a proposal," said Donaldson. "The applications clearly demonstrate the Wright State community's commitment to student success, campus engagement and professional development."
The following projects were approved for Students First Fund grants, with awards ranging from $2,500 to $7,500:
Alankaar: Wright State's First-Ever Indian Music Choir — Alankaar will give Wright State students the unparalleled opportunity to connect to Indian culture through music. Students will be able to train in three forms of Indian music: Bollywood, folk and Indian classical.
Build Boffin Back Better — The College of Engineering and Computer Science will purchase equipment and materials for future projects developed in the Boffin Factory, a space in the Russ Engineering Center that engages students in activities and helps foster community. An interactive staircase in the Russ Engineering Center atrium will be the first project funded.
Peer Mentors of Wright State: Mental Health Mentorship Training Program — This program will foster collaborations among the students and professors of the School of Professional Psychology, departments of Human Services and Social Work and the wider Wright State community. Peer mentors will undergo a structured training program to offer emotional support, foster a culture of openness and encourage students to seek help without fear of judgment. 
Introductory Psychology Lab Kits: Enhancing Remote Experiential Learning — The Department of Psychology will develop an online lab component for its introductory psychology course. Online students will receive pre-prepared lab kits that include a course-pack with worksheets to accompany video tutorials in Pilot, as well as materials for demonstrations and experiments.
Graduate and Honors Hub — The Graduate and Honors Student Advisory Board will develop a Graduate and Honors Hub where students can relax, study, gather and communicate, leading to valuable collaboration opportunities. The hub will be furnished with essential study room equipment, such as desks, chairs and a bookshelf stocked with free graduate and professional exam preparation books and materials. 
PEEPS: A Nursing Student-Led Peer Mentoring Program — Wright State's Association of Student Nurses will create the Peers Enrichment and Empowerment Program for Success (PEEPS), the university's first student-led nursing peer mentorship program. Junior and senior nursing students can volunteer to provide year-long mentoring support to first-year nursing students to help improve academic success and student retention.
LakerSpace — Spearheaded by the Workforce Development and Business Enterprise Center at Lake Campus, LakerSpace provides a place where students can create new ideas for real-world applications. The Students First Fund grant will be utilized to purchase new equipment and tools for LakerSpace including a vinyl cutter and plotter, 3D scanner, sewing machines, 3D pens and supplies.
Raider Active Relaunch — Raider Active, a for-credit health and fitness program, was discontinued in 2020 due to COVID-19. The Students First Fund grant will help the Department of Kinesiology and Health, Campus Recreation and Counseling and Wellness Services promote the relaunch of the program and encourage enrollment.
Teach Better for All — Led by the education department at Lake Campus, the Teach Better for All initiative will provide professional development opportunities for education students at the Dayton and Lake campuses, as well as for teachers at partner schools throughout the region.
Math Learning Center Graphing Calculator Rental Program — Thanks to a Students First Fund grant, the Math Learning Center will be able to purchase additional graphing calculators for its rental program. A required technology for many mathematics and statistics courses, the calculators are especially important for such introductory courses as college algebra and calculus. Since these introductory courses may be the only mathematics course that students have to take, the Graphing Calculator Rental Program prevents students from having to pay over $100 for a graphing calculator that they may use for only one semester.
"We are proud to continue this innovative program to help Wright State students succeed," said Scott Rash, president and CEO of the Wright State University Foundation. "Students First Fund grants play a vital role in supporting the university's commitment to recruitment, retention and relationships."