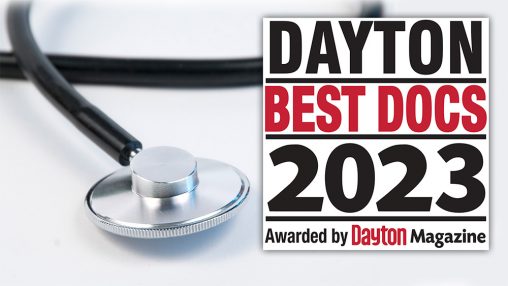 Nine doctors with Wright State Physicians were named to Dayton Magazine's 2023 listing of Dayton's Best Docs.
The magazine asks readers to nominate and vote for their favorite Dayton-area physicians in 77 specialties, from cardiovascular disease to maternal-fetal medicine.
Kim Rex, Wright State Physicians C.E.O., said of these doctors, "It is an honor and a privilege for me to call these physicians my colleagues. Not only are they exceptional physicians, they are exceptional human beings. We are lucky to have them practicing right here in the Miami Valley."
David Dhanraj, M.D., chief medical officer of Wright State Physicians and chair of the Department of Obstetrics and Gynecology and associate dean for clinical affairs at the Wright State University Boonshoft School of Medicine, added, "Wright State Physicians is proud to once again to have several members of our team make this list. Our physician educators deliver remarkable care to our patients while preparing the next generation of clinicians to serve in our community and beyond."
The nine doctors also serve on the faculty of the Boonshoft School of Medicine.
The School of Medicine's dean, Valerie Weber, M.D., said, "We are so proud of all of our doctors at Wright State Physicians, who provide not only wonderful care to our community but also educate the next generation of physicians. These special physicians who are being recognized are so deserving and exemplify the best of our profession."
The nine doctors recognized are:
Steven Burdette, M.D.
Infectious Disease
Professor, Internal Medicine; Infectious Disease Program Director
Corey Ellis, M.D.
Sports Medicine
Assistant Professor, Family Medicine and Orthopaedic Surgery
Julie Gentile, M.D.
Psychiatry
Chair and Professor, Psychiatry
Phillip Heyse, M.D.
General Surgery
Assistant Professor, Surgery
Brian Merrill, M.D.
Psychiatry
Associate Professor and Residency Program Director, Psychiatry
Melissa Roelle, M.D.
Breast Surgery
Assistant Professor, Surgery
Craig Rohan, M.D.
Dermatology
Assistant Professor, Dermatology and Pharmacology and Toxicology
Christopher Schneider, M.D.
General Surgery
Assistant Professor, Surgery
Trisha Zeidan, M.D.
Endocrinology
Assistant Professor, Internal Medicine and Endocrinology