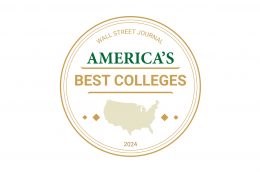 Wright State University was named one of America's Best College's for 2024 by the Wall Street Journal and College Pulse.
The America's Best Colleges 2024 ranking serves as a guide for prospective students across the nation while recognizing the colleges and universities doing an outstanding job in higher education. The ranking of the top 400 colleges was based on a student and alumni survey and student outcomes metrics.
The student and alumni survey was one of the largest ever independent surveys of college students in the United States.
Over 60,000 undergraduate students and recent undergraduate alumni were asked by College Pulse to provide feedback on colleges that are of great value to its students in terms of tuition, learning environment, degree completion and the likelihood of a higher salary after graduation.
Student Outcomes Metrics used a variety of metrics around student outcomes to determine the salary impact compared to similar colleges, the number of years to pay off net price and graduation rates compared to similar colleges. An assessment of the level of diversity on campus was also a part of the analysis.