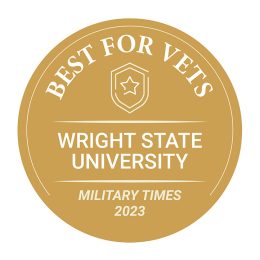 Wright State University was named a 2023 Best for Vets college by Military Times, ranking 212th overall and 37th in the Midwest.
The rankings use student success metrics such as completion, retention, persistence and GPA as the most important factors in determining the relative rankings followed closely by the range of military-specific resources and financial assistance available to students. Admissions and registration policies, human resources and assorted miscellaneous considerations also factor into the scoring rubric.
Wright State serves about 600 veteran and military-connected students per semester.
Seth Gordon, Ph.D., director of the Wright State Veteran and Military Center (VMC), said one of the reasons that Wright State is successful is that the university strives to create an environment that makes student veterans feel like Wright State wants them and that they belong at the university.
"The VMC's most important function is providing support for student veterans, both guard and reservists, as well as their spouses and dependents using GI Bill benefits or other military educational benefits," Gordon said. "We also try to create a welcoming atmosphere in our space and provide programming that seeks to connect student veterans to each other as well as other campus resources."
Wright State also recently received the Military Supporter of the Year Award from the Dayton Business Journal during its 2023 Business of the Year Award ceremony.
Wright State has been recognized for its military-friendly service with a Military Friendly Silver Award from Victory Media, which focuses on working with military publications including the Military Times news organization.
The Ohio Department of Higher Education also named Wright State a Collegiate Purple Star campus for its efforts to create a supportive and inclusive environment for military-connected students.
Gordon encourages faculty and staff to go the extra mile for students. The Veteran and Military Center offers a VMC Student Champion co-curricular certification for students, faculty and staff.
The program incorporates VMC-sponsored training programs with other offices and services to ensure that those who work with veterans have experienced at least 15 hours of training in four areas: exposure to military culture, participation in Green Zone Training that explores mental health issues common among veteran and military-connected students, and completion of Question, Persuade, Refer suicide prevention training and Mental Health First Aid Training.
"Military service can serve as a dramatic catalyst for learning and success in other fields for many student veterans and military-connected students," Gordon said. "We want our staff, faculty and students to be able to recognize early when any student is experiencing the stress of college and juggling their external responsibilities. Student veterans and military-connected students may experience more issues as a result of their previous or current service. Having a population that respects that service and is trained to appropriately address is invaluable."
Shannon Hansen, a U.S. Air Force veteran majoring in English with a concentration in professional and technical writing, said Wright State was the obvious choice for her.
"I was worried about fitting in as I am older than the average student," she said. "Also, with my PTSD challenges, I worried about interacting with so many people. The VMC has helped me through all of that. While the environment is conducive to studying and providing a safe space, it is the people who work there that make it the amazing place it is. They have listened to me vent, helped me through obstacles, encouraged me to be me by accepting me on my level, just as I am, understanding how difficult it is to ask and accept help. Without the support of the VMC, I am not sure I would be able to navigate this next chapter of my life at Wright State."