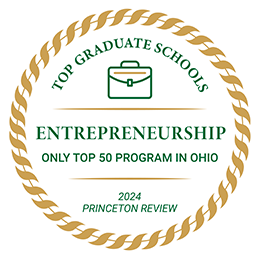 The Princeton Review has named Wright State University's Raj Soin College of Business as one of the nation's top graduate programs for aspiring entrepreneurs, ranking it 43rd nationally, the top program in Ohio and eighth in the Midwest in 2024.
The ranking is based on a survey of administrators at nearly 300 schools offering entrepreneurship studies. The survey, which contained more than 60 questions, was analyzed using over 40 survey data points to select the schools and tally their rankings.
Wright State's ranking was based on its Master of Business Administration and its new venture creation concentration.
"This ranking by Princeton Review reflects the growing commitment to entrepreneurship at Wright State, with programs offering experiential, real-world courses in which students create their own new venture business plans and also assist current companies with their plans," said Kendall Goodrich, Ph.D., professor and chair of marketing.
The new venture creation MBA concentration features advanced topics in innovation and entrepreneurship to help increase skills and further career goals. It focuses on the economics of innovation, including the technological change, economic growth, globalization and long-wave cycles that affect innovation in business and organizations. It also offers courses on technology-based ventures and entrepreneurship.
At the undergraduate level, the Raj Soin College of Business offers a Bachelor of Science in Business, entrepreneurship major, and an entrepreneurship minor.
The Princeton Review is a leading tutoring, test prep and college admission services company.