((Contributed by Timothy R. Gaffney))
A Wright State University student group today used historical artifacts, cutting-edge technology and pizza to help connect the campus population with the university's famous namesakes, the Wright brothers.
The Wright State Chapter of the American Marketing Association declared Wednesday, Oct. 5, as Wright Brothers Day and organized a series of exhibits and activities from 11 a.m. to 4 p.m. in the Student Union Atrium and outside on Hamilton Plaza.
"The idea was to celebrate the Wright brothers and everything they did," said Kyle Boze, a junior in marketing management and president of the marketing club chapter.
Amanda Wright Lane, great-grandniece of Wilbur and Orville Wright, read an executive resolution from Gov. Kasich declaring Oct. 5 Wright Brothers Day across Ohio. Wilbur and Orville themselves were on hand, as impersonated by NASA employees Tom Benson and Roger Storm from the NASA Glenn Research Center in Cleveland. Around the atrium, students and faculty displayed examples of advanced technology and innovation.
"While the name of the university, and my family, reflects the heritage of 100 years ago, the fact is that the spirit of innovation represented by the Wright brothers lives on," Wright Lane said. "This university is deeply a part of that spirit in their engineering programs and aerospace medicine."
The date the students picked for Wright Brothers Day fell in the middle of Homecoming Week, but they chose the date because of its local historical significance.
Orville's 12-second hop at Kitty Hawk, N.C., on Dec. 17, 1903, made history by proving powered flight was possible, but he and Wilbur only made four powered flights there. They continued their flying experiments for the next two years on Huffman Prairie in Greene County, less than two miles from where the university stands today.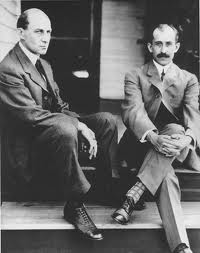 It was there on Oct. 5, 1905, that Wilbur's epic flight of nearly 40 minutes in the Wright Flyer III convinced the brothers they had developed a practical flying machine. Their next steps were to patent their invention, sell their first airplanes, then open a factory and a flying school. Huffman Prairie is now a part of Wright-Patterson Air Force Base and an element of the Dayton Aviation Heritage National Historical Park.
Other university departments and outside organizations signed on to support the event.
The Wright State Libraries' Special Collections and Archives, which holds the world's largest Wright brothers collection and is a premier research destination for aviation history scholars, displayed some original artifacts. Also on display were innovations emerging from Wright State such as micro air vehicles, 3D visualization technology, robotic patients for nursing instruction, and more.
The National Aviation Heritage Alliance (NAHA), a Dayton-based group chartered by Congress to promote the region's aviation heritage, supported the event with a Wright "B" Flyer flight simulator that let people test their flying skills on the Wright brothers' first factory-built airplane. Outside on Hamilton Plaza, Wright "B" Flyer Inc., a local group that operates the only flying Wright "B" Flyer lookalike, displayed a half-scale model of the airplane.
But the marketing club took no chances. It made sure students would find the displays, if only by following their noses, with tall stacks of boxes of hot, free pizza.
Marketing Club on Facebook: http://www.facebook.com/wsumarketing
Marketing Club on Twitter: http://twitter.com/#!/WSUmarketing