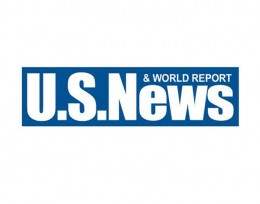 U.S. News & World Report has ranked Wright State University's online Master of Education degree as No. 15 in the nation among online graduate education programs.
The magazine evaluated admissions selectivity, faculty credentials and training, student engagement and accreditation, and services and technology. Wright State's highest category score was in faculty credentials and training.
The U.S. News ranking made Wright State's College of Education and Human Services online program the top-ranked program in Ohio and ahead of well-known state universities such as Michigan State and Penn State. A total of 208 institutions were surveyed.
"We are delighted with our program ranking of 15 nationally," said Jill Lindsey, Ph.D., chair of the Department of Leadership Studies. "This is a testament to the time and dedication invested by program Director Dr. Grant Hambright and the educational leadership program team to deliver high-quality education online. We think of ourselves as leaders in our field, and being ranked 15th in the nation strengthens our reputation as a program and as a vanguard institution."
Online education is becoming an essential part of the higher education landscape. The number of schools offering fully online degree programs is nearly double what it was 10 years ago— 62.4 percent of colleges and universities offered fully online programs in 2012 compared with 34.5 percent in 2002, according to the Babson Survey Research Group.
The Master of Education at Wright State is a teacher leadership program focused on curriculum, instruction and professional development for educators who want to remain in the classroom and mentor younger teachers, develop curriculum, improve teaching strategies or oversee special programs for students. It is also the initial coursework for those who aspire to be principals and superintendents.
Formerly referred to as the Teacher Leader Program, the Master of Education program began in the 1970s as a way to reach out to students by sending faculty members to teach courses in outlying areas where there were a significant number of students, such as Wapakoneta, Marysville, Washington Court House, Batavia and Forest Hills.
As online technology developed, the program morphed into a hybrid model, with some of the courses and cohorts—or groups of students—being taught both face to face and online. In 2004 some of the cohorts went fully online; today, all of the cohorts are online. In fall 2012, the department began offering three additional online programs: a Master of Education for Principals, an Education Specialist Degree for Curriculum and Instruction Specialists and an Education Specialist Degree for Superintendents.