Wright State University broke ground on a new state-of-the-art laboratory building expected to become a beacon for translational neuroscience and engineering research.
The April 25 groundbreaking launched construction of the $37 million, four-story Neuroscience Engineering Collaboration Building. It is expected to be finished by February 2015.
President David R. Hopkins called it a one-of-a-kind facility.
"It's about being bold in the community," Hopkins said. "That's the attitude we have at Wright State."
Robert Fyffe, Ph.D., vice president for research and graduate studies, said the building is a recognition of the high quality of work done by Wright State neuroscientists and engineers and their potential.
"It's a major commitment by Wright State to invest in research, which is going to be critical for the future of the university and the region," Fyffe said.
The groundbreaking drew members of the media and featured remarks by Hopkins; Fyffe; Provost Sudaram Narayanan; Timothy Cope, director of the Neuroscience Institute; Jim Pancoast, president and CEO of Premier Health Partners; Jerry Johnson, with the architectural firm Perkins & Will; and Larry Klaben, chair of the Wright State University Board of Trustees.
"There are seminal moments in every university's development; today represents just such a moment," Klaben said. "In this building the ideas will ultimately lead to the improvement of the human condition."
The four-floor, L-shaped NEC Building will feature 90,000 square feet of laboratory and office space and will initially provide work areas for more than 100 faculty, staff and students. A 105-seat auditorium will provide space for seminars, workshops and advanced teaching sessions.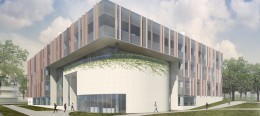 The building will be strategically honeycombed with offices, student work areas and laboratories outfitted with sophisticated equipment, enabling neuroscientists, engineers and physicians to work side by side.
"The goal is that these scientists, engineers, physicians will work together to address significant problems and through the synergies, resources and talent available in the NEC Building come up with very creative transformational answers to the questions," said Fyffe.
The building, in the heart of the campus, will feature a four-story atrium and an outdoor terrace above the auditorium to encourage random interactions between the neuroscientists and engineers. It will be connected by tunnel to other campus buildings.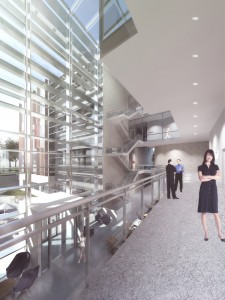 Fyffe said the synergies and "neighborhoods" created by the NEC building will serve as a model for how things are done in the future.
"There is no single department taking over a wing of the building or a floor of the building; it's highly integrated," he said. "It's not just the faculty interacting; it's the students and the other people in the building. We have a terrific opportunity here to develop a new sense of community on campus."
Neuroscientists, physicians and engineers will focus on research and development of new technologies to improve treatment strategies and medical devices especially related to the fields of neurological disorders and traumatic injuries. The goal is to help speed the commercialization and clinical use of research and the new technologies.
For example, there will be labs in the building that will enable engineers to work with neuroscientists to develop more sensitive medical-imaging equipment that could then be tested at Miami Valley Hospital and validated with patients. There will also be "cleanrooms," spaces with extremely low levels of environmental pollutants such as dust, microbes and chemical vapors so as to allow for research in pristine conditions.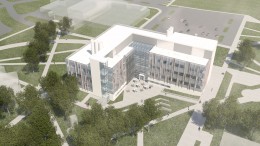 Cope said Wright State researchers are currently working to find treatments for stroke, epilepsy, traumatic brain and spinal injury, neurodegenerative diseases and other medical problems. He said people occupying the new building will investigate why blood vessels in the brain burst, develop imaging techniques to track neurological diseases, help people at risk for depression and disorders of learning and memory, work to regenerate damaged nerves to their fullest possible function, and develop treatments for respiratory diseases like sleep apnea, SIDS and ALS.
Fyffe said the building will be the major one on campus and in the Dayton region that fosters this kind of very high-level, high-impact research.
"The university will become a focal point for local industries and other organizations that wish to become active partners in our research enterprise," he said. "In particular, the NEC Building will be a base for our hospital partners to expand their research efforts. And we anticipate that the efforts of our faculty and student researchers will generate commercializable discoveries that will significantly impact economic development in the region. "
Fyffe said the NEC Building is expected to help Wright State recruit and retain top researchers and will become a powerful magnet even as construction itself begins.
"We don't need to wait until it's finished to see people taking more interest in taking a position at Wright State," he said. "As the building project progresses, I hope that recognition of the importance of this facility and the work that will be done in it will also lead to significant opportunities for philanthropic investments in the future of research at Wright State University."