Wright State's campus community took a bow at the Student Union today during a "Day of Celebration," an event that included unveiling the university's revised strategic plan.
The new plan, a guidepost for now and into the future as the university approaches its 50th anniversary in 2017, promises to enhance academic quality, student success, community engagement and economic development.
The plan sets forth a detailed strategy and clearly defined markers that will guide Wright State and continue to empower its people, the school's greatest asset.
"Five years ago, we decided that Wright State was not going to operate like a 20th century model university," said Wright State President David R. Hopkins. "We were not going to be complacent. We were going to be nimble and agile and respond to the needs of our students and our community. The plan included providing curricula that prepares students for the 21st century workforce."
Final development of the updated strategic plan began in 2012, with extensive campus meetings held among faculty, staff and students in order to help shape the strategy with a collaborative approach.
Faculty and staff from individual colleges and schools at Wright State developed tactics to produce each unit's individual strategic plan. The university's culture is guided by the overall strategic plan.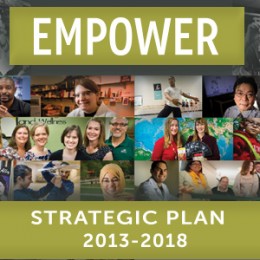 The previous strategic plan led to successes such as recruiting and retaining internationally known faculty, building a national research reputation, creating the Wright State Research Institute and enhancing the university's impact in the community with the development of seven Ohio Centers of Excellence.
"What makes me the proudest is that in the past five years our faculty and staff have helped almost 20,000 students achieve their dream of a college degree," Hopkins said.
Such successes have resulted in strides toward improving the human condition—for example:
developing a mechanism that promises to slow tumor growth in breast cancer;
building a novel breath-analysis device designed to detect diabetes, kidney disease and cancer; and
creating technology with the potential to detect viruses within minutes, giving early warning and reducing the possibility of an outbreak.
"I could go on all afternoon about the national recognition our colleges have received, our growing reputation as a military-friendly school, our continued commitment to serving students with disabilities, our international student population, the list goes on," Hopkins told the audience of students, faculty and staff who crowded into the Student Union Atrium on Oct. 18.
Hopkins told the gathering that they are Wright State's most valued resource, essential to making the new strategic plan a reality.
"The greatest strategies in the world mean nothing without people who are committed to making them happen," he said. "My commitment today is to empower each of you with the tools, the environment and the support that you need to do your best work."
Hopkins said the Wright State community creates its own destiny.
"It's up to us to shape our future and decide what our legacy will be among 21st century universities," he said.
Visit http://www.wright.edu/about/strategic-plans to learn more about the 2013–2018 strategic plan.