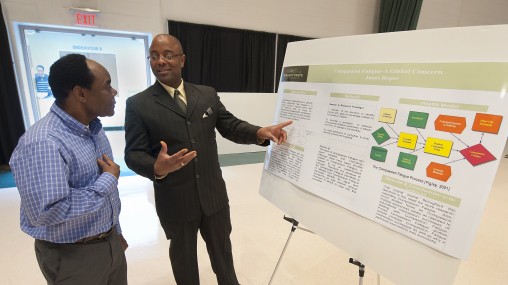 It was a gold mine of student research presented all at once and all in one place.
More than 100 poster and oral presentations by Wright State University student researchers were delivered April 11 in the Student Union during the annual Celebration of Research, Scholarship and Creative Activities.
The event showcased the work students are doing both on the undergraduate and graduate levels, whether it be in STEM (science, technology, engineering and mathematics) disciplines or in the liberal arts.
The oral and poster presentations spanned research in biomedical engineering, chemistry, computer science, psychology, political science and other disciplines.
Topics ranged from the highly technical to the more general—everything from "Brain Segmentation and Analysis of Neonates with Dysphagia" to "Skull Fracture in Head Impacts" to "Military Research on Foreign Policy."
Larry Dosser, chairman emeritus of the Mound Laser & Photonics Center, strolled through the forest of poster displays on the lookout for young talent.
"What I like about it is you get the young kids talking about their research, putting it out in front of the public," Dosser said. "When you get out into the business world, you have to be able to talk about research, you have to explain it to others. This gives them an opportunity to do that."
Researcher Elizabeth Sancomb, who is finishing up her master's degree in biological sciences, investigated how deer affect the population of spiders by consuming vegetation the insects need to anchor the webs they spin. She did her research in a wooded area of northern Wisconsin.
"Total spider abundance decreased where deer were allowed to graze," she said. "It tells us that the overpopulation of deer isn't simple, that there are far-reaching consequences. They're affecting spiders, they're affecting birds, they're affecting basically the entire forest ecosystem."
Moner Ragas, a Ph.D. student in biomedical sciences, used rats to investigate whether a combination of an antidepressant and a cholesterol-reducing drug could be effective in treating stroke victims.
"This study proves that our post-stroke drug combination treatment allows for motor functional recovery in those individuals for whom physical rehabilitation may not be possible, giving slightly better motor recovery in grasping," he said.
The presenting sponsor of the event was Peerless Technologies, a nationally-recognized firm providing engineering, information technology, human performance, intelligence and cyber services to federal government clients.
Hosting sponsors were the Mound Laser & Photonics Center, which provides military and medical laser processing solutions; the Wright State Research Institute; and Barnes & Noble. Heraeus, which develops and produces high-performance chemicals for the electronics and aerospace industries, was a supporting sponsor.