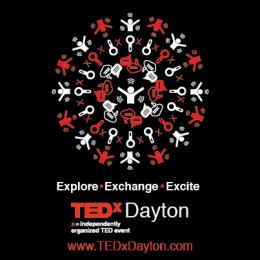 Five people with links to Wright State University will be among the speakers and performers at TEDxDayton2014.
TEDxDayton is an independently organized event licensed by TED, a nonprofit devoted to spreading ideas from the world's most inspired people.
Nearly 30 speakers, performers and performing groups will take the stage at the Victoria Theatre in downtown Dayton between 9 a.m. and 4:15 p.m. Friday, Oct. 17.
Those with Wright State connections include Dan Krane, professor in the Department of Biological Sciences; Tony Ortiz, associate vice president for Latino affairs; Catalleya Storm, freedom activist and junior studying political science and business management; Jackie Janning-Lask, who earned her bachelor's and master's degrees in systems engineering from Wright State; and Jesse Thomas, who earned a bachelor in fine arts and is helping direct a painting performance by students from Stivers School for the Arts.
Wright State is bringing TEDxDayton2014 to the Dayton campus via a livestream of the event. Students, faculty and staff can attend a TEDxDayton viewing party during the event in the Joshi Center lobby.
View the complete TEDxDayton schedule.