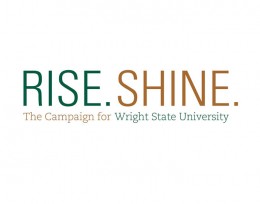 Roundup of media coverage of Rise. Shine. The Campaign for Wright State University:
Dayton Daily News: Tom Hanks to lead $150M fundraising effort at Wright State
Academy and Emmy Award winner Tom Hanks and Amanda Wright Lane, great grandniece of Orville and Wilbur Wright, will lead the largest fundraising campaign in Wright State University's 47-year history. The university will announce it at a private event on Saturday evening.
The $150 million "Rise.Shine. The Campaign for Wright State University" will be formally announced by WSU President David Hopkins during an event at the Nutter Center that is expected to include almost 700 students, faculty, staff, donors and other guests. Read more >>
Dayton Daily News: Tom Hanks' connection to Wright State long-standing
Hanks has donated items for Wright State's annual ArtsGala fundraiser, including allowing auctioning off a trip to be on the set of "Angels and Demons" in Rome. In 2005, the Tom Hanks Scholarship Fund was established and awards four scholarships a year.
It was during one of those trips to California where Wright State President Hopkins met Hanks for the first time.
"We love Tom Hanks and he loves Wright State," Hopkins said.
Hopkins has spent time with Hanks throughout the years and has the opportunity to share Wright State's story. "He wanted to hear about Wright State beyond just the theater and the arts," Hopkins said. "I had a chance to visit with him about veterans and he's a major supporter of veterans and military personnel. I talked to him about our mission and how much it matters in this 21st century." Read more (subscription required) >>
WHIO-TV: Tom Hanks to lead Wright State fundraiser
Wright State President David R. Hopkins discusses Tom Hanks' relationship with Wright State. Watch the video >>
Dayton Business Journal: Wright State announces largest-in-history $150M fundraising campaign
"This is a big deal for us, it's no small number but it's an attainable one," said David Hopkins, president of Wright State. "We're keeping the focus with this effort on the students, and our goal is to provide them an affordable, high-quality education in a way that helps them be successful."
The fundraising will go in part toward student scholarships and support services. The school hosts a number of first-generation students, and growing portions of its student body are non-traditional students and veterans, many of whom don't have the same support system as students out of high school.
Funding will support scholarships, faculty recruitment and support services to help students through school. Read more >>
WDTN 2 News: Tom Hanks to lead fundraiser for Wright State
The Rise.Shine. campaign will help expand scholarships, attract faculty and support construction of new facilities.
"This campaign is all about student success. It will change Wright State forever and the generation of students to come," said WSU President David Hopkins. "It's going to grow our prominence and relevance in 21st century education."
The university says more than $106 million in gifts and pledges were already raised.
"We're excited about the campaign because of the difference it will make to the students, their success and the future of the institution," said Provost S. Narayanan. "It's going to be a lasting legacy." Read more >>
Columbus Dispatch: Tom Hanks helps Wright State University with fundraising drive
"Wright State is a rising leader in 21st-century higher education," Hanks said. "From groundbreaking research to world-class fine and performing arts, this university truly has a mission that matters."
Hanks in 1998 donated to Wright State for a scholarship fund in his name. The school near Dayton says 67 students in acting, dance and other theater studies have benefited. Hanks also has donated autographed movie posters for an annual ArtsGala event at Wright State. Read more >>