Wright State University's Veteran and Military Center is collaborating with public radio station WYSO to create a series of stories on local veterans' experiences transitioning to civilian life.
What makes the series unique is it is created by two Wright State student veterans, Allison Loy, a motion pictures major, and Jeremy Dobbins, who is majoring in mechanical engineering and minoring in history.
The stories will air on WYSO 91.3FM during "Morning Edition" at 6:45 and 8:45 a.m. The reports will also be available on WYSO.org and as podcasts and through the Ohio Public Radio network.
The series, called "Veterans Voices," starts Wednesday, Dec. 10, and will air every other week until May.
WYSO and the Veteran and Military Center worked together to create the series as part of Veterans Coming Home, a project by public media stations around the country.
"Veterans Voices" will feature interviews with individual veterans highlighting issues they are facing as they reenter civilian life. Veterans of various ages and from different branches of the military will be featured.
"We wanted to do it as a veterans-to-veterans project," said Neenah Ellis, WYSO general manager. "We think that veterans are more comfortable talking to other veterans."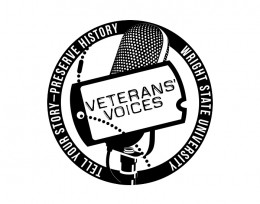 It also allows Dobbins — who was an infantry rifleman in the Marine Corp from 2007 to 2011 — and Loy — who was an avionics technician in the Air Force from 1998 to 2013 — to add their own experiences to their stories, making the reports more personal in ways not usually found in journalism.
Will Davis, a lecturer in the Department of Communication at Wright State who is the editor of "Veterans Voices," called the project a fusion of different styles.
"This is a very ambitious, highly creative project that combines journalism and storytelling in new and interesting ways," said Davis, the former coordinator of Wright State's Student Technology Assistance Center, or STAC. "What's fun about this process to me is, over the course of 12 episodes, we're inventing a new sort of model."
Dobbins and Loy hope their stories will appeal to people both in and out of the military while also helping veterans who might need it.
"If somebody listens to this and they're having problems maybe it will help them in some way," Dobbins said.
"If we get our experiences out there — even if it's going to be difficult — I think it'll be useful," Loy said.
In the first story in the series, Loy interviews a member of the Air Force who is separating from the military later this month and plans to start a small business. They discuss the stress and anxiety this kind of major life change creates.
"In my piece I compared getting out of the Air Force to getting a divorce," said Loy, who left the military in 2013. "Yes I wanted to get out, but it was still very emotional and hard because when you're in the military that is your life. You're committed to it. You have to be committed to it."
"Veterans Voices" has helped Dobbins, who describes himself as an introvert, to open up more to others.
"Getting used to meeting people and talking to people and sharing a little about yourself has been really good for me, and it's gotten me out of my shell and doing things that I enjoy," he said.
WYSO is one of 13 public media outlets in the nation participating in Veterans Coming Home.
Funded by the Corporation for Public Broadcasting, the project features compelling stories about veterans produced by public media stations around the country, from Phoenix and Nashville, to Tampa, Fla., and Springfield, Ma.
Some of the grant funding WYSO and the VMC received for the project is being used to pay Dobbins and Loy.
WYSO and the center are also working with VFW Post 3283 in Huber Heights, which is helping the station and the VMC connect with vets and connecting vets with services.
WYSO trained Dobbins and Loy to create radio stories as part of the station's Community Voices training course last summer. The students also took a veterans oral history class at Wright State organized by the VMC and Seth Gordon, the center's director.
The class uses storytelling to connect Wright State student veterans with others who have served in the military, while helping older veterans talk about their experiences.
Storytelling is a powerful way to build community, Gordon said.
"It's an important thing, the action of talking. And people don't realize how powerful just sharing stories are especially in terms of healing or in terms of just feeling there's somebody else who gets it," he said.
Sharing the stories of veterans, Gordon said, is also a way to reach out to more veterans and let them know that "other people are going through exactly what you're going through, that you're not isolated, that there are other people you can talk to."
"Veterans Voices" is not the first collaboration between WYSO and Wright State. The station has frequently worked with Wright State filmmakers Julia Reichert and Steven Bognar and others in the university's motion pictures program, and partnered with Wright State's Ohio Center of Excellence in Collaborative Education, Leadership and Innovation in the Arts (CELIA) on "Reinvention Stories," radio documentary series on people affected by the Great Recession.