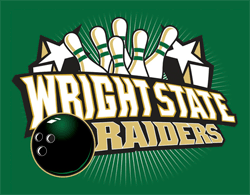 Wright State bowling coach Jeff Fleck uses two criteria to gauge the success of his program — what he observes in the bowling alley and what he observes at lunchtime.
"If you go to The Hangar in Allyn Hall at lunch most any day, you might see a dozen of our kids hanging out together," Fleck said. "We believe in 'family first,' so seeing what a tightknit group this has become is very rewarding."
That chemistry has also led to an unprecedented level of success through the first half of the Wright State bowling teams' season.
The Wright State women were No. 2 nationally and the men No. 9 in the most recent United States Bowling Congress (USBC) Team Ranking System rankings. The women were actually ranked No. 1 through the first eight releases.
Fleck, who worked with Mandy Wilson and Ty Davidson to start the program 10 years ago, said the teams have not both been ranked in the top 10 this late in the season since 2011.
"These are all local kids who work hard, have solid fundamentals and really enjoy working together to get better," Fleck said.
Women's team determined to regain momentum
The Wright State women reached the semifinals of the 2013 USBC Intercollegiate Team Championships. But, despite returning six of the top eight players from that team, the Raiders were eliminated in the 2014 sectionals.
"We expected to make it last year and we fell short," said Courtney Dingledine, a senior biology major from Mechanicsburg. "I think we'll be back this year. The talent is about the same, but we're really clicking together."
If the Raiders qualify for the national tournament April 15–18 at Northrock Lanes in Wichita, it would mark their fifth appearance in seven years. The USBC event is the primary national tournament that combines all college women's programs (NCAA, NAIA and club teams).
The Raider women have already won three tournaments this season — the Racer Classic (University of Northwestern Ohio), Cardinal Baker Classic (Ball State) and Falcon Classic (Bowling Green).
"We have had some underclassmen really step up when we needed them to," said Shannon DeWitt, a senior business management major from Dayton. "There are other tough teams out there, but I think we can hang with anybody."
Through seven events, DeWitt led the team with a 201.67 average, followed by Colleen Hines (197.09), Leslie Campbell (188.53), Jenna Wenning (186.82), Dingledine (186.5) and Sarah Endres (185.4).
Youthful enthusiasm benefits men
The Wright State men began the season with 11 freshmen among 22 players. Early uncertainty was soon converted to confidence.
"We found out early on that, for most of those guys, bowling is a top priority," said Brock Hines, a senior social science education major from Beavercreek. "They came here, went to work and got better."
Seven players carry a 190 or better average; four are freshmen. Freshman Kyle Kessler leads the team with a 200.17 average, followed by Clay Stutzman (199.44), Nick Hatton (194.42), Jacob Vance (192.65), Luke Manger (192.58), Maxx Tamburino (192.36) and Brandon Weiker (191.87).
"Talent-wise, we're on a par with the team that went to nationals (in 2012)," said Dillon Cromes, a senior middle childhood education major from Troy.
Baker system fits Raiders
If the Raiders can qualify for the USBC tournament again, they will benefit from a recruiting philosophy that emphasizes depth over star performers.
"It really fits well with the team concept," Fleck said.
Five-person Baker team members bowl two frames each. The first athlete bowls frames 1 and 6, the second frames 2 and 7 and so on. The best bowler, or anchor, generally bowls frames 5 and 10.
"We can compete with anybody in Baker," Fleck said.
Because so many athletes figure in the final outcome, team unity is often a natural development in collegiate bowling.
"Our players were all stars of their high school teams," Fleck said. "But when they get here, they learn right away how important it is to understand the team concept. Sometimes somebody else is going to take your spot. Sometimes you'll have to be a spectator.
"We do a lot of things to promote chemistry and camaraderie. That's part of the reason we have so many family members who travel to watch our matches. That's why our girls never shut up. They're constantly cheering for each other. That's why our men's team has such interesting dynamics between all those freshmen and the veterans. And, I think, that's why we have a program that can compete at a national level."