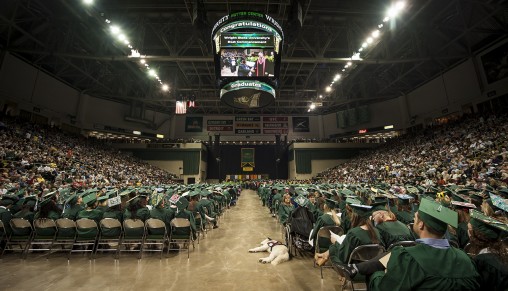 More than 1,200 Wright State students are scheduled to graduate during the university's fall commencement ceremony in the Wright State Nutter Center on Saturday, Dec. 19.
The ceremony begins at 10 a.m. Tickets are not required.
Graduating students will receive 742 bachelor's degrees, 447 master's degrees, 25 doctoral degrees, three post-master's degrees and 12 associate degrees.
The commencement class includes graduates from 46 Ohio counties, including 731 graduates from the 16 counties anchored by Wright State's Dayton and Lake campuses and 151 from other Ohio counties.
Graduates also hail from 20 different states and Washington, D.C. And the class includes 282 international students from 25 nations, with India boasting the largest number of global graduates with 185.
Graduating students range in age from 19 to 64, with the average age being 26.
The ceremony will be broadcast live on WSU-TV on Time Warner Cable channel 5.105 in the university dorms and Fairborn and regionally on AT&T Uverse channel 99 in the Dayton tab.
You can also watch the event live online at wright.edu/streaming.
Wright State to honor Sharon Honaker Rab
During commencement, Wright State will award an honorary Doctorate of Humane Letters to Sharon Honaker Rab, founder and co-chair of the Dayton Literary Peace Prize.
The Dayton Literary Peace Prize grew out of the 1995 Dayton Peace Accords, which ended the Bosnian War. The prize was established in 2006 as the first and only annual U.S. literary award given in recognition of writers who promote peace through works that lead readers to a better understanding of other cultures, peoples, religions and political points of view.
Rab graduated from Wright State with a Master in Education degree in 1975. She taught language arts for 30 years at Kettering Fairmont High School and served as an adjunct instructor of composition at Miami University for 14 years. She was twice a finalist for Ohio Teacher of the Year.
For 20 years Rab produced and hosted Writer 2 Writer, a cable television show on which she interviewed hundreds of local, national and international authors. A writer herself, Rab's yet-to-be-published novel "Paper, Scissors, Rock" was a finalist for the Pen Bellwether Award for Socially Engaged Fiction.
Meet three notable graduating students
Spencer Brannon
Brannon, who double majored in political science and economics and minored in Spanish, served as an intern for the Executive Office of the President of the United States at the White House.
Brannon first became interested in politics at Beavercreek High School when he went to the Ohio Statehouse as part of Student Congress.
"I got to interact a lot with the staff and the lawmakers," he said. "I thought, 'This is fun. What they do sounds interesting.'"
At Wright State, Brannon got involved in Student Government. He was president of the College of Liberal Arts Student Advisory Board, chaired the Student Legal Services Board and chaired many groups and committees that advocated for students and made sure policies were aligned with student interests. He was also vice chair and chairman of the Ohio Student Government Association, one of the nation's largest entirely student-led intercollegiate organizations.
"Wright State does a particularly good job of giving opportunities to students," Brannon said. "If I had gone to another university that had 40,000 students and the same number of leadership opportunities, I would have been fighting to get my voice heard. Here, I have an opportunity to meet with whatever administrator is in charge of the program and I can effect substantive change."
Brannon, who carries a 3.5 GPA and will graduate cum laude, has studied abroad in Taiwan and Costa Rica. He also worked abroad in Sydney, Australia, for an investor relations company and the CPA Society of Australia for nearly a year.
In the fall of 2016, Brannon will begin an asset-finance job with the international banking company HSBC in New York City.
Oluebube Ezenagu
Ezenagu grew up in Nigeria and moved to Cincinnati when she was 14 to pursue educational opportunities. Three of her family members have obtained their degrees at Wright State.
"I had no doubt that coming to Wright State was the right step for my future," she said.
Ezenagu has been involved on campus in the residential communities and currently serves as a president's ambassador, top students who represent the university and the Office of the President at official functions, give guided tours and meet with community leaders, alumni, donors and dignitaries. She has been inducted into Omicron Delta Kappa, the leadership honorary, and currently works as a student assistant in the Office of the Vice President for Student Affairs.
Ezenagu, who is graduating a semester early with her nursing degree, hopes to eventually become a medical doctor and at some point return to her native Nigeria.
"Health has been my passion since I was young — taking care of people, being with them in their worst days, being their strength," she said. "I feel like that is a service that is so great to share with somebody."
Edward Sevillano
Sevillano, 28, is a mass communication major who grew up in the Philippines and became a U.S. citizen in 2012.
"Even though my family and I lived a fairly decent practical life, I didn't have much growing up," he said.
Ten years ago, Sevillano came to the United States and was taken in by an American family.
"They have provided me with all the love and support I needed in this big transition in my life," he said. "It was definitely hard adapting to the American culture, especially with the language barrier that I had. Even today, I'm still overcoming that challenge along with homesickness but not as much as I use to."
Sevillano's passion is filmmaking. He aspires to be a producer and director and make action/comedy films in the mold of Jackie Chan.
"Every time I watched film or television as a boy, I always felt like I was part of that world," he said. "My goal as a filmmaker is make my first feature-length film within the next five years."