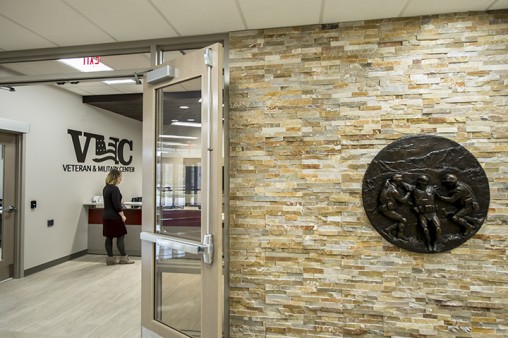 Twenty student military veterans from Wright State University will attend the increasingly popular and influential Student Veterans of America Conference. It will be one of the largest delegations from any university.
"It's a huge deal when you're around other student veterans who are looking to better their schools, their communities and their lives," said Jon Granata, president of the Wright State University Veteran's League.
The annual conference will be held at Walt Disney World in Orlando, Florida, from Jan. 7-10. It will feature networking opportunities with corporations and breakout sessions on topics ranging from transitioning to the workforce to engaging the leadership of women veterans to mental and emotional help on campuses.
Granata attended his first SVA conference last year in San Antonio, which attracted 1,200 student veterans and featured speeches by Vice President Joe Biden and Robert A. McDonald, secretary of Veterans Affairs.
This year's conference will be a day longer and is expected to be attended by more than twice the number of student veterans — about 3,000.
Granata said that with 20 Wright State veterans at the conference, they will have the luxury of attending virtually all of the breakout sessions and then be able to compare notes with each other afterward.
He discovered that most other universities are only sending one or two veterans to the conference when he put in a call to Jared Lyon, CEO of the SVA. Lyon, who was at the White House about to meet with President Obama, took Granata's call.
The Wright State Veterans League, a 74-member chapter of the Student Veterans of America, is a student organization that serves as a voice for student veterans to the university. The league raised $16,000 from the annual Veterans Ball and received $3,000 from the university to help pay for the trip.
"Wright State loves helping veterans. They see the value in it," Granata said.
The SVA, with 420,000 student military veterans in more than 1,200 chapters, provides veterans with the resources, support and advocacy needed to succeed in higher education and following graduation. It offers scholarships and hosts informational conferences and leadership summits.
According to the SVA, today's veterans face numerous obstacles in attaining a college degree. Obstacles range from a missing sense of camaraderie to feeling like an outsider among younger, traditional students to a lack of understanding by faculty. Member chapters are the "boots on the ground" that help veterans reintegrate into campus life and succeed academically, the SVA says.
Granata believes the Wright State group will be inspired at the conference and return with ideas on how to improve the Wright State chapter.
"I am expecting people to come back fired up, amping up what we're going to do for Wright State and for our community," he said. "They're going to be coming back with fully armed power that will directly affect students."