We've all seen them. Grinning, bug-eyed ceramic frogs playing poker, riding motorcycles and even banging the drums.
The frogs can be found on desks, bookcases and nightstands in all 50 states. Thousands and thousands of them have been handcrafted over the years. And it's all because of Wright State University alumna Janice Hester, who invented them, made them and sold them.
"It just took off," said the 74-year-old Hester, who still lives in the Kettering home in which she grew up.
A few ceramic frogs still hang out at the house.
There is an award-winning motorcycle gang of frogs; car-driving frogs; poker-playing frogs, one chomping on a cigar; a drum-playing frog; and even Christmas tree-decorating frogs. The most popular frog, says Hester, is one shrugging its shoulders and saying "Whatever."
Hester's amphibious career did not begin early. After graduating from Fairmont High School in 1961, she spent the following 10 years working at NCR Corp., where she helped assemble cash registers.
She finally decided to enroll at Wright State in hopes of becoming an art teacher.
"I liked art, and I wanted to do something besides work in a factory," she said.
After coming to Wright State, she fell in love with clay, molding shapes and forms with her hands.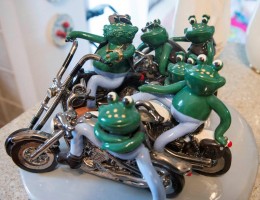 "That was my cup of tea," she said.
In the summers, Hester and her family would go to their summer home in Albany, Kentucky, just north of the Tennessee border. She spent a lot of time at a nearby lake, which was thick with frogs.
Hester began crafting frogs out of clay, but she personified them — having them do human-like things.
"I would be down there at the lake making frogs," she said. "It was a natural thing, playing with shapes."
After Hester began selling her frogs at arts and crafts shows, she was encouraged to form a company to make and sell the frogs commercially. So she founded the Hester Co., and she and her mother began making frogs in the basement.
"We would make little batches of them," she said. "Maybe in one day we would make 30 frogs."
After the frogs were fired and glazed in a kiln, they were sold in gold boxes with brown velour lids.
"It was something fancy for being a little frog," she said.
Hester graduated from Wright State in 1977 with her bachelor's degree in art education.
"I was going to teach art, but my little company was doing so well that I just kept doing that," she said.
Hester said she learned a lot at Wright State about forms and shape and believes her education made her more successful than she would have been.
At Wright State, Hester met fellow art student Mona Royer, who is currently a professional artist living in Washington, D.C. The two became good friends and even traveled around Europe together following graduation.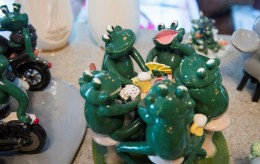 "Her work is fun and witty and has been sold everywhere," Royer said of Hester. "Agents, reps, galleries and shows."
Hester retired a couple of years ago, so her company no longer exists. But she still sells her frogs at craft shows. She even gets Christmas cards from a Hamilton man who bought his first Hester frog as a boy.
"It's been a good run, but I kind of burned out. Made enough frogs," Hester said. "I've started doing watercolors instead."
Hester plans to sell her frogs at the following craft shows: Lakota West High School on Oct. 1-2; Lakota East High School on Nov. 12-13; and Ryle High School in Union, Kentucky, on Nov. 18-19.