There were Chinese mooncakes. There was Konafah, a Middle Eastern dessert made of phyllo dough and ricotta cheese. And there was even a mysterious dish called King's Dust.
All were on display in the Millett Hall Atrium on April 14 for the LEAP Student Bake-Off, which drew about 40 students, faculty and staff who did a lot of munching and nibbling from plates piled high.
LEAP instructor Mailinh Nguyen said the event was designed to enable the international students to experience something that is very much a part of American culture while featuring dishes from around the world.
LEAP (Learning English for Academic and Professional Purposes) is an intensive English program in the College of Liberal Arts. It provides full-time English instruction and helps non-native speakers develop the linguistic, academic and social skills they need to be successful in academic and professional programs.
At the bake-off, LEAP students presented 10 different dishes vying for Best Presentation, Best Flavor and First Place.
"Some are from their own culture and some are more Western-style that they like," said Nguyen. "All of the other students get to test-taste them and vote."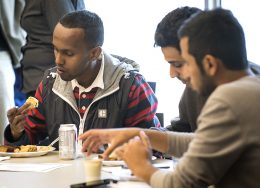 Mohammed Alshammari, of Saudi Arabia, made a soufflé, a French dessert. "I cook what I like and something from my country sometimes," he said.
YeKyung Yoon, of South Korea, made a traditional Korean cake. "The major ingredient is rice," she said.
Isabel Amezquita, of Colombia, baked a banana bread with quinoa and organic eggs. "It's healthy. I like healthy foods," she said.
And the winners were:
Best Presentation: Aml Altwayjri, of Saudi Arabia, for "Salty Cake"
Best Flavor: Mariam Najdat M Saleh, of Iraq, for "Basbousa"
First Place: Ying "Louise" Wang, of China, for "Chocolate Cake"