The Wright State University community is rallying to help people in Texas affected by Hurricane Harvey.
On Aug. 31, Wright State Athletics donated over 10 boxes of athletic clothing and shoes to The Expediting Company, a Vandalia trucking company that is shipping donations to the hurricane-stricken Southeast region of Texas. The president of that company, Gabe Knight, is a former Wright State golfer who said he was happy to work with his alma mater on such an important effort.
"You see the horrific images on the news and you think oh goodness, what can we do to help?" said Bob Grant, director of athletics. "This is a small thing that we can do but it is still important for us to do."
On Sept. 1, the Wright State Boonshoft School of Medicine held a blood drive from in White Hall for hurricane victims. The Phi Rho Sigma medical society, a national social and community service organization hosted the drive.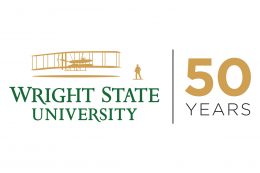 Wright State became an independent institution in 1967 and spent the next 50 years growing into an innovative leader in community service. In 2017, it celebrates its 50th anniversary as an independent public university, culminating with a special Homecoming celebration Sept. 29 through Oct. 1.