Complexions Contemporary Ballet will cap a weeklong residency at Wright State University with a special concert Sept. 28.
Led by Dayton native Dwight Rhoden, Complexions will perform at 7 p.m. at the Victoria Theatre in downtown Dayton. Tickets are $55 and $28 for general admission and $20 for students, and are available at ticketcenterstage.com or 937-228-3630.
The concert will mark the first time Rhoden's company has performed in Dayton.
"I've been waiting patiently to bring Complexions back to my hometown of Dayton, Ohio, for over two decades. I'm so excited this is going to finally happen. We are in our 24th anniversary season and the company has been spreading its message of unity through dance all around the world," he said.
The company's visit to Dayton will also include a residency at Wright State Sept. 26–29, giving university dance students a chance to learn firsthand from two renowned artists.
Jillian Davis, a dancer with Complexions, will teach four master classes in Rhoden's dance technique, Nique. Rhoden, artistic director of Complexions, will lead a master class for all dance students on Sept. 29.
Rhoden and Clifford Williams, a resident artist with Complexions, also taught master classes with Wright State dance students last February.
Learning alongside world-renowned dancers provides opportunities to challenge students, said Gina Walther, associate professor of dance.
"As a dancer you have to be exposed to a lot of different styles and be able to be versatile and do anything that is asked of you," she said. "The more opportunities we can give them to study with people who are at the epitome of their game or the epitome of our art form, it gives them a lot of versatility."
The concert and residencies are part of "Modern: Reimagining the New," a tribute to modern art organized by Wright State's Collaborative Education, Leadership and Innovation in the Arts (CELIA).
The concert will feature a performance of "Star Dust," a tribute to the late David Bowie that Rhoden choreographed.
Considered "America's Original Multicultural Dance Company," Complexions has remained consistent in delivering a profound passion for diversity. The company transcends tradition with a mix of styles ranging from ballet to hip hop.
Walther said the performance will appeal to many people — both dance enthusiasts and David Bowie fans.
"Complexions is at the forefront of what's new, what's modern. The style of the company is a hybrid of everything from classical ballet to hip-hop," she said. And that's a very new thing in the world of dance."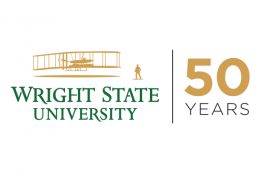 The "Modern" program is presented as part of CELIA's Distinguished Visiting Artist Series with support from the Virginia B. Toulmin Foundation.
Wright State became an independent institution in 1967 and spent the next 50 years growing into a leader in performing arts education. In 2017, it celebrates its 50th anniversary as an independent public university, culminating with a special Homecoming celebration Sept. 29 through Oct. 1.