When he won a fellowship with the National Institute of Standards and Technology, Wright State mechanical engineering student Eric Tatman had no idea he would be working next to one of the nation's two research nuclear reactors.
The reactor turned out to be a key in helping Tatman simulate and test his design of an innovative device that promises to help the auto industry improve the quality, safety and fuel efficiency of components.
"It was pretty amazing," he said.
The reactor is at the NIST Center for Neutron Research in Gaithersburg, Maryland, where Tatman was assigned for his 11-week fellowship that began in May and ended in August. He beat out several hundred students from around the country for the prestigious Summer Undergraduate Research Fellowship, which is supported by an institute scholarship.
The institute, which was founded in 1901 and is now part of the U.S. Department of Commerce, is one of the nation's oldest physical science laboratories. Congress established the agency to remove a major challenge to U.S. industrial competitiveness at the time, a second-rate measurement infrastructure that lagged behind those of the United Kingdom, Germany and other economic rivals.
The institute promotes innovation and industrial competitiveness by advancing measurement science, standards, and technology in ways that enhance economic security and improve quality of life. Technology, measurement and standards provided by the institute have supported everything from computer chips and atomic clocks to global communication networks and earthquake-resistant skyscrapers.
Tatman helped researchers at the NIST Center for Neutron Research with the design and simulation of an Octo-Strain Device, aimed at testing sheet metal for the automotive industry in an effort to improve quality, safety and fuel efficiency.
Tatman did computer automated design work to create the Octo-Strain model and the finite-element analysis to put the model in real-world situations to make sure it would be successful and reliable.
The nuclear reactor was used to direct a neutron beam through the center of sheet-metal material while it was being pulled in eight different directions by the simulated Octo-Strain. The beam measures the distance the atoms are moving in the metal and gives more accurate property data.
Tatman received the runner-up honor for his presentation to the NIST Center for Neutron Research group.
Tatman said the fellowship enabled him to develop new skill sets and helped him in his current research into the use of metallic powder and 3D printing to manufacture aircraft and other parts.
"I learned a lot," he said.
Tatman grew up in Chillicothe. His mother is an office manager and his father an engineer with Kenworth, which manufactures semitractors and other heavy- and medium-duty trucks.
"I've always liked doing things with my hands; any kind of mechanical object has always fascinated me," said Tatman. "Any time my Dad went out to the garage to change the oil and work on cars, I was right there with him. That really sparked my interest in engineering — getting to understand the theory behind how an engine works."
Tatman and his father are restoring his father's first car — a yellow, 1970 Ford Torino.
After graduating from Unioto High School, Tatman chose to attend Wright State.
"I really liked the size of the campus," he said. "I didn't feel like I was just a number here. Yet, it felt like it wasn't really small either. I kind of like that in-between."
Tatman just earned his bachelor's degree in mechanical engineering and is now pursuing his master's in design and mechanical engineering.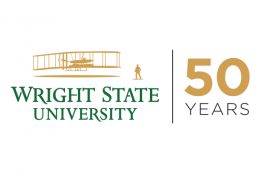 When he is not studying or working as a graduate assistant in the College of Engineering and Computer Science, Tatman designs customized, high- quality speakers using a 3D printer he has at home. He says the speakers enhance his enjoyment of music, especially the blues of favorite guitarists Robert Cray and Eric Clapton.
Wright State became an independent institution in 1967 and spent the next 50 years growing into an innovative leader in affordable and accessible education.