Stops at an Audi manufacturing plant, a coffee company headquarters, the presidential palace and the Teotihuacan pyramids highlighted a 10-day, business, history and culture journey through Mexico for 10 Wright State University students.
The trip, from Aug. 10–19, included students majoring in everything from business and organizational leadership to computer science, psychology, nursing and anatomy. Led by John Martin, associate management professor in the Raj Soin College of Business, the trip enabled the students to gain a better understanding of the nuances of conducting business as well as to experience the Mexican culture.
"Mexico was a great learning experience," said Mike Ciesa, a graduate student majoring in anatomy. "Gaining the Mexican perspective on international trade-related issues has made me more informed and better prepared to combat misconceptions portrayed by the media and political leadership."
Arlene Ogan, an organizational leadership major who was born and raised in Mexico until age 7 and speaks fluent Spanish, helped members of the group break through language barriers several times.
"Being a part of the international business trip has been an amazing experience that I would highly recommend," said Ogan. "Especially noteworthy is the ability to not only learn about Mexican business, but also being able to explore and experience it."
The students spent seven days in Puebla, a historic city of over 3 million people southeast of Mexico City and known for its culinary history, colonial architecture and pottery.
The students toured a manufactured goods facility, The Italian Coffee Company headquarters and distribution center, a microbrewery and the new state-of-the art Audi automobile plant, which produces the Audi Q5. In addition to site visits, the group met with experts in international trade, international law, economics and economic development.
"In Mexico, I learned more about myself, my peers, and the world," said Allie Tucker, a senior majoring in human resource management.
In Mexico City, the students visited the presidential palace, which contains vivid paintings by artist Diego Rivera; the National Museum of Anthropology and Archaeology; and the Teotihuacan, which features the most architecturally significant Mesoamerican pyramids built in the pre-Columbian Americas.
"The experiences we gained on this trip will remain unparalleled," said Alex Vondenhuevel, who majors in international business. "From eating authentic food to hiking one of the most breathtaking pyramids in the world, there is not one adventure in the past 10 days that I will forget."
The students were also introduced to salsa dancing along with students from more than 10 other countries.
"The Mexican dancing, the Mexican food and the Mexican culture are all things everyone needs to experience at least once in their lifetime," said Haneen Barri, a computer science major. "It was an amazing experience I hope everyone has the opportunity to take part in."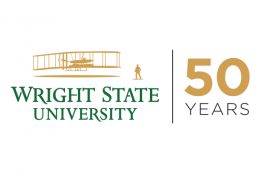 Another trip to Mexico is scheduled for August 2018. To learn more, visit the University Center for International Education website, or contact Martin at john.a.martin@wright.edu.
Originally founded as a branch campus of The Ohio State University and Miami University, Wright State became an independent institution in 1967. It celebrates its 50th anniversary in 2017.