The Vietnam War. Segregation. Pollution. All were issues in the 1960s and '70s that fired the passions of students and sparked protests at Wright State University and colleges around the nation.
Today, Wright State is at the forefront of a national effort to preserve and archive that history-making student activism through Project STAND (Student Activism Now Documented).
"It's capturing the student voice in the archives, which is a voice that we don't have very much of," said Chris Wydman, archivist and records manager in Special Collections and Archives at Wright State. "I think it will open up windows to vast areas of campus history that aren't very well known."
Project STAND, launched in 2016, will create an online clearinghouse of digital and analog papers, manuscripts, diaries, photographs and other content related to student activism and dissent.
The project group has grown from eight universities in Ohio to more than 40 around the nation, including Northwestern, Purdue, Indiana, Arizona State, Rhode Island, Penn State and Rutgers.
"These kind of collaborative projects can be very powerful," said Wydman.
He said Wright State has some materials on student activism taken from presidential papers, newspaper reports, alternative student publications, campus newsletters and faculty and community advocacy groups. Most of the activism materials stem from antiwar and civil rights protests in the 1960s and '70s, when Wright State was just getting off the ground as a university.
"There was less activism going on here than at some other universities," said Wydman. "But the materials we have give a real good flavor, a cross-section of the students who were here at that time and their activities."
For example, students at Wright State took part in Vietnam Moratorium Day on Oct. 15, 1969 — a massive national demonstration and teach-in against the war. There was also a campus protest against the Dow Chemical Co. over the military use of napalm bombs in Vietnam. And students launched a letter-writing campaign to then-Gov. James Rhodes protesting the fatal shootings of demonstrating Kent State students by the Ohio National Guard.
Wydman said the Special Collections and Archives already has many collections and materials related to university administration.
"There is a big push now to collect more material regarding student life and document the rich and complicated history of student life," he said. "I think the real push for this came from the recent rise of student activism and the need to better document these voices on college campuses across the country."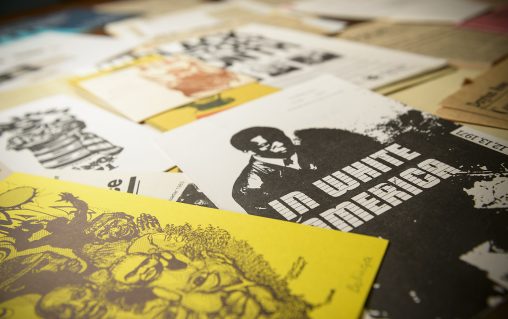 Recent college protests have revolved around racism, sexual assault, gun violence, sexual orientation, diversity and free speech.
The project will have an eye toward documenting student groups who represent historically marginalized groups on campus such as African Americans, women, Asians, Hispanics and religious minorities.
Special Collections and Archives is appealing to student groups and their advocates in the campus community to help enrich the project by providing material on more recent activism. That could be provided through social media content such as Facebook and Twitter posts, as well as traditional content that an archives collects, such as photographs and documents.
"We would very much like to promote awareness of this effort on the Wright State campus and encourage student organizations to contact the Archives about preserving their history," said Dawne Dewey, head of Special Collections and Archives.
Wydman serves as Wright State liaison to Project STAND and is helping develop a website to promote the project.
Once collection surveys are complete to determine what kinds of activism materials are in the archives, the process of putting them online will begin. The project recently received $92,000 from the Institute for Museum and Library Services to provide a series of symposiums at four of the participating universities focusing on student dissent.