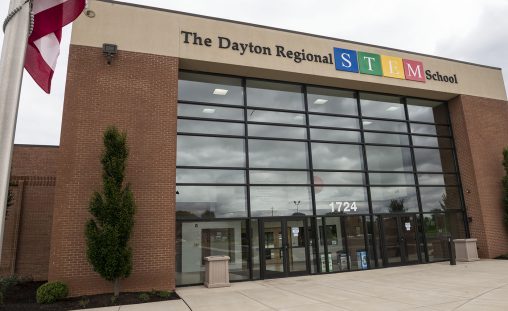 The Dayton Regional STEM School (DRSS), an affiliate of Wright State University, has won recognition as a National Blue Ribbon School for exemplary performance.
The honor was announced Sept. 30 by U.S. Education Secretary Betsy DeVos. DRSS was one of 14 Ohio schools recognized and the only one in the Dayton area.
The U.S. Department of Education program recognizes schools in one of two performance categories, based on all students' scores and student subgroup scores on designated tests, as well as on graduation rates. DRSS was recognized as an Exemplary High Performing School. The National Blue Ribbon School award affirms the hard work of students, educators, families and communities in creating safe and welcoming schools where students master challenging content, according to the department.
"This achievement is remarkable after just 10 years of operation and recognizes the value of the school's inclusive culture, its outstanding staff and project-based educational model and its engagement with community partners," said David Goldstein, president of the DRSS board and chair of Wright State's Department of Biological Sciences.
DeVos and the U.S. Department of Education will celebrate with more than 350 school honorees at an awards ceremony in Washington, D.C., in November.
The Dayton Regional STEM School, a public school that opened in 2009 with Wright State as a co-founder, uses project-based learning to teach students in grades six through 12. The students participate in inquiry and project-based instruction that marries traditional STEM content with social studies, language arts, fine arts and wellness and fitness.
The school's 670 students come from 30 different school districts in six counties. DRSS had 90 students in its first class, which was only ninth grade. The school later expanded to include grades six to 12. So far, the school has had six graduating classes yielding more than 300 graduates. The graduation rate has reached 100 percent for recent classes.
Virtually the entire faculty and staff of the STEM school are Wright State employees. Many of the teachers are Wright State graduates. And the students all have Wright State email addresses.
About 30 percent of the school's graduates attend Wright State, including several valedictorians. The majority go to college in Ohio.